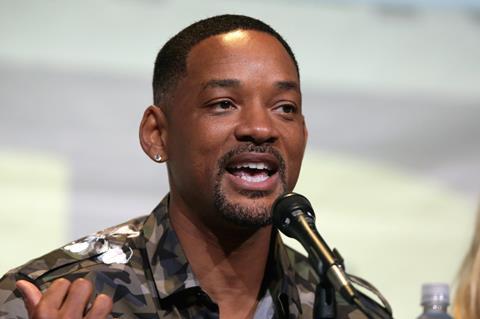 Warner Bros and Apple are understood to be vying for runaway slave thriller Emancipation, the most high profile sales title of the virtual Cannes market that pairs Will Smith with director Antoine Fuqua and is, according to sources and reports, driving up bids towards the high eight-figure range.
FilmNation and CAA Media Finance introduced the project at the US-led A Demain virtual Cannes market this week and hosted an online presentation.
The project is timely given the renewed focus on race relations and waves of protests around the world stemming from police killings and the violent deaths of black people in the US.
Apple brings unmatched buying power, and has taken a strong public stance on racism, recently pledging $100m towards a racial equality and justice initiative.
The company has stepped up its activity in film. It picked up the Tom Hanks wartime drama Greyhound from Sony, and this week acquired Julianne Moore con artist project Sharper with A24. The slate includes Sofia Coppola's On the Rocks, Josephine Decker's upcoming The Sky Is Everywhere, and Sundance prize-winner Boys State, again with A24.
Warner Bros brings strong credentials on top of its proven reputation as a studio of the highest calibre. It has the upcoming tentpole King Richard starring Smith as Richard Williams, father and coach to tennis sensations Serena and Venus Williams, and parent company WarnerMedia has committed money towards supporting creative ideas from unheard communities.
Corporate sibling HBO Max recently removed Gone With The Wind due to concerns over "racist depictions", and has just put the Civil War saga back on its service with a disclaimer warning viewers it "denies the horrors of slavery".
MGM made a competitive bid although sources said it was no longer in the running. Under new film head Michael De Luca, the studio has been on an aggressive buying spree, snapping up Ron Howard's Thai cave rescue drama Thirteen Lives and Ridley Scott's Gucci project with Lady Gaga.
Emancipation centres on a slave who broke from captivity and fled through the Louisiana swamps to the North where he joined the Union Army. William N Collage wrote the screenplay.
Smith, James Lassiter and Jon Mone will produce through Westbrook Studios, with McFarland Entertainment's Joey McFarland and Escape Artists' Todd Black.
Fuqua is an executive producer through Fuqua Films with Cliff Roberts.