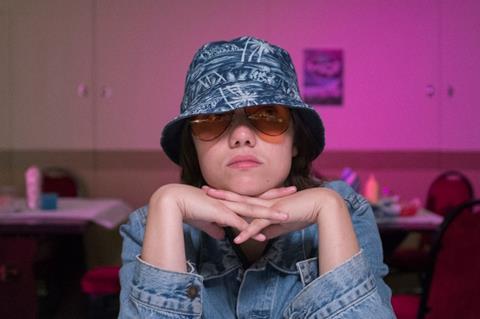 Sweetheart, the debut film by UK director Marley Morrison, has won the audience award at the closing event of the 2021 Glasgow Film Festival (GFF), which ran online-only from February 24 to March 7.
The film made its world premiere at the festival.
The coming-of-age story, charts the relationship between two young women during a summer holiday at a caravan park in Dorset. It is the final title to come out of the latest Film London Microwave slate of low-budget projects.
It is produced by Michelle Antoniades for Hazey Jane Films, in association with Phil Hunt's Bohemia Film and Andy Brunskill's SUMS Film And Media. Executive producers are Evan Leighton-Davis and Pietro Greppi. It will next screen at BFI Flare: London LGBTIQ+ Film Festival (March 17-28).
GFF shifted entirely online for its 17th edition as a result of the pandemic, extending its reach nationwide with a public streaming platform that hosted 10 world premieres, three European premieres and 49 UK premieres.
The festival recorded 37,733 viewers from across the UK, down on last year's record total of 43,147 admissions, which took place shortly before the first nationwide lockdown was imposed. A selection of titles will remain available to rent from the festival's Glasgow Film At Home platform until Wednesday (March 10).
Virtual screenings of every film in the programme had their attendance capped, with sold out screenings of several titles including Ben Sharrock's Limbo. The festival is sharing ticket profits 50/50 with the filmmakers, distributors or sales agents. It opened with the UK premiere of Lee Isaac Chung's awards contender Minari and closed with Suzanne Lindon's Spring Blossom.
Plans for 2022
Reflecting on this year's edition, GFF co-director Allison Gardner said: "It's far exceeded my expectations, which is down to the loyalty of our existing Glasgow Film Festival attendees and new attendees, from across the UK.
"It's been easier to add films in a way that has been more difficult during previous editions," said Gardner of moving online. "We were able to add First Cow and documentaries Tina and Sir Alex Ferguson: Never Give In at quite a late stage, without the dilemma of what we would need to reschedule. The opportunity to be more innovative with our programme has been interesting."
Gardner also noted audiences were more likely to impulse buy tickets for the online edition of the festival and created their own communities through social media.
"We will definitely look to embed an element of online activity for GFF22," she added, looking ahead to next year. "I'm not sure where the world might be in 2022 but it's an inevitability that online will feature as we've invested in the platform and seen it run so successfully this year. We also want to serve a greater public across the UK, who have just gotten to join the Glasgow Film Festival family."
The festival also ran its industry online in parallel with the public event, on a specially dedicated platform that featured interviews with 1917 writer Krysty Wilson-Cairns and The Mauritanian director Kevin Macdonald among others.
The industry platform also included a country focus on South Korea; and panels on disability in film, intimacy coordination in the age of coronavirus and a focus on black Scottish films, filmmakers and history.
The festival also partnered with global streaming platform Mubi on a new 'ambassador' initiative, aimed at highlighting under 30s talent in the GFF programme, with director Ben Sharrock among those on board, who presented a case study of his award-winning feature Limbo.
GFF will next run March 2-13, 2022.