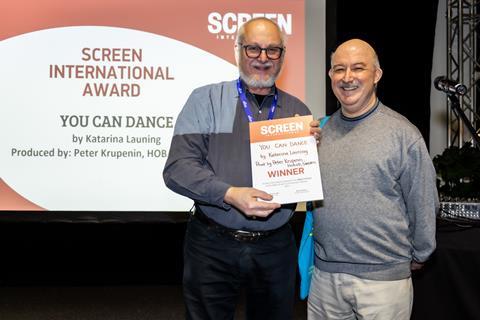 The 2021 Tallinn Black Nights Film Festival has named the winners of its Industry@Tallinn & Baltic Event awards.
The industry showcase took place as a hybrid of in-person and virtual events, with the winners announced today (November 26) following a week of presentations and networking with around 700 delegates.
Swedish director Katarina Launing's feature project You Can Dance was named the winner of Screen International's best pitch award at the Baltic Event Co-Production Market, which guarantees coverage on Screen throughout the project's lifecycle.
The €2.5m romantic comedy centres on 75-year-old Gunnar who develops feelings for Sixten, another man in the dance activity group of his nursing home. Having not had a relationship with another man previously, his granddaughter Molly and new friends help him find his true self.
The project was pitched in Tallinn by veteran Swedish producer Peter Krupenin of Stockholm-based production company Hobab, with director Launing – whose latest feature is family adventure Dragon Girl – sending a video message to about the genesis of the project.
Previous winners of the Screen International best pitch award include Hamy Ramezan's refugee drama Any Day Now, which screened at this year's Berlinale, while coming-of-age feature Erik Stoneheart from Estonian director Ilmar Raag is now in post-production and being lined up to premiere at a festival next year after winning the prize in 2016.
Co-Production Awards
Tallinn's Co-Production Market awarded its best project prize to thriller Lioness by Estonian director Liina Triskina-Vanhatalo. The project received a €5,000 cash award and up to €10,000 of post-production services from Helsinki-based facility Post Control.
The film will be produced by Allfilm's Ivo Felt who worked as local service producer on Christopher Nolan's Tenet and was producer on award-winning feature Tangerines, The Fencer and Truth and Justice.
The international jury – comprising Pluto Film's Daniela Cölle, Locarno Pro head Markus Duffner and Estonian producer Riina Sildos – gave a special mention to Latvian omnibus project Hysterias.
The production by Riga-based Tasse Film will include five shorts by female writer-directors Ieva Norvele, Adriana Roze, Liene Linde, Alise Zarina and Marta Elina Martinsone.
In addition, accreditations to next year's Cannes Producers Network were awarded to Chilean producer Clara Larrain of Santiago-based Clara Films, who pitched Matias Rojas Valencia's Our Memory, and to Belarus-born producer Larisa Oleinik for Vlada Senkova's drama Yurki, produced by Russia's Doka with Reason 8's Denis Krupnov as co-producer.
Works in Progress awards
The industry platform also presented the Best Visual Effects Award, worth €10,000, to Titas Laucius' feature debut Parade, produced by Vilnius-based Afterschool Productions.
The Baltic Event Award went to Czech writer-director Jan Sverak's comedy Bethlehem Light, produced through his own outfit Biograf Jan Sverak with UK producer Eri Abraham of Portobello Productions. The award of €2,500 is intended to cover the promotional costs of a theatrical release in Estonia, Latvia and/or Lithuania.
A special jury mention went to Natalia Sinelnikova's social satire We Might As Well Be Dead, produced by Julia Wagner's Berlin-based Heartwake Films.
Tallinn's Script Pool jury named its most promising project as Dreaming Of Lions, a dark comedy about euthanasia from Portuguese-Greek filmmaker Paolo Marinou-Blanco.
The Just Film Works in Progress jury, focusing on projects for young people, handed its award to Argentina-Italy project Paula by Florencia Wehbe. It includes a €1,000 cash prize to help the film gain visibility by covering promotion and publicity costs.
The 20th edition of Industry@Tallinn & Baltic Event ran from November 19-26, with more than 550 guests on-site in Tallinn and a further 150 following the programme online.