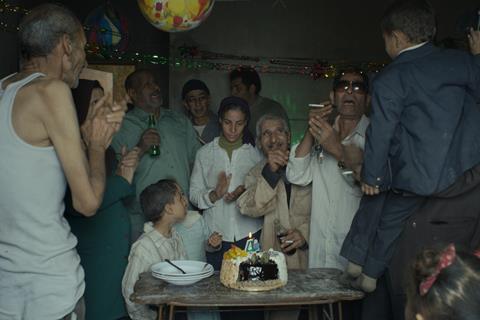 Jordanian director Bassel Ghandour's The Alleys and Egyptian director Omar El Zohairy's Feathers lead the nominations in the sixth edition of the Critics Awards for Arab Films.
The films each garnered nominations in four categories, including best film, director and screenplay.
Spearheaded and run by the Cairo-based Arab Cinema Centre (ACC), this edition focused on Arab-language films that premiered on the festival circuit outside of the Arab world in 2021.
It was voted on by 167 film critics from 68 countries, who viewed the films on Festival Scope.
The winners will be announced during the Cannes Film Festival (May 17-28).
El Zohairy's social satire Feathers world premiered in Cannes Critics' Week last year, clinching its top prize and then went on to win awards worldwide including at Calgary, Pingyao and El Gouna.
It revolves around a downtrodden, impoverished Egyptian housewife whose husband is irreversibly turned into a chicken by a children's party magician.
Ghandour's The Alleys debuted in Locarno before also playing at the BFI London Film Festival and the inaugural edition of Saudi Arabia's Red Sea International Film Festival.
Set in the Jordanian capital of Amman, it revolves around a young couple who are blackmailed about their illicit secret relationship.
"It was a very good year for Egyptian films and co-productions, with strong entries from Iraq, Jordan, Lebanon and other countries, all riding the wave of splashy festival premieres and mature themes," said Deborah Young, manager of the Critics Awards for Arab Films.
Past winners of the awards' best film category comprise In The Last Days Of The City (2017), Wajib (2018), Yomeddine (2019), It Must Be Heaven (2020) and Gaza Mon Amour (2021)
Full list of nominations
Best Film
Europa (Iraq) - dir. Haider Rashid
Feathers (Egypt) - dir. Omar El Zohairy
Memory Box (Leb) - dir. Joana Hadjithomas and Khalil Joreige
Souad (Egy, Tun) dir. Ayten Amin
The Alleys (Jor, Egy, Saudi Arabia) - dir. Bassel Ghandour
Best actor
Adam Ali, Europa (Iraq)
Ali Suliman, Amira (Pal)
Monzer Reyahnah, The Alleys (Jor)
Samir Guesmi, Life Suits Me Well (Mor)
Soufiane Guerrab, A Brighter Tomorrow (Alg)
Best actress
Afef Ben Mahmoud, Streams (Tun)
Demyana Nassar, Feathers (Egy)
Manal Issa, The Sea Ahead (Leb)
Maisa Abd Elhadi, Huda's Salon (Pal)
Saba Mubarak, Amira (Jor)
Best director
Ayten Amin, Souad (Egy)
Bassel Ghandour, The Alleys (Jor)
Ely Dagher, The Sea Ahead (Leb)
Hany Abu-Assad, Huda's Salon (Pal)
Omar El Zohairy, Feathers (Egy)
Best screenplay
Ayten Amin, Mahmoud Ezzat, Souad (Egy)
Bassel Ghandour, The Alleys, (Jor)
Ely Dagher, The Sea Ahead (Leb)
Khalil Joreige, Joana Hadjithomas, Memory Box (Leb)
Omar El Zohairy, Ahmed Amer, Feathers (Egy)
Best documentary
As I Want (Egy) - dir. Samaher Alqadi
A Thousand Fires (Pal) - dir. Saeed Taji Farouky
Little Palestine: Diary of A Siege (Pal-Leb) - dir. Abdallah Al-Khatib
Miguel's War (Leb) - dir. Eliane Raheb
Republic Of Silence (Syr) - dir. Diana El Jeiroudi