Other winners included Parents; The Commune; In The Blood and The Neon Demon.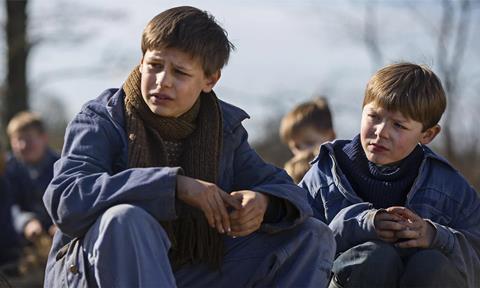 Scroll down for full list of winners
The winners of the Danish film academy's 2017 Robert awards were announced on Sunday (5 February).
Jesper W. Nielsen's orphanage drama The Day Will Come triumphed on the night, picking up six prizes including best film, best original screenplay for Søren Sveistrup and best supporting actor and actress for Lars Mikkelsen and Sofie Gråbøl.
Christian Tafdrup won best director for his debut film Parents with star Søren Malling also picking up best actor.
Best actress went to Trine Dyrholm, who won her ninth Robert for The Commune. Thomas Vinterberg and Tobias Lindholm also won best adapted screenplay for the film.
Nicolas Winding Refn's The Neon Demon dominated the technical categories, winning 5 Roberts including best cinematography, sound editing and score.
The Revenant won best American film, with Son Of Saul winning best foreign film.
The annual awards are voted for by the Danish Film Academy, which was founded in 1982 and is comprised of more than 2000 members.
Full list of winners
Best Feature Film
The Day Will Come
Best Children & Youth Film
In the blood
Best Director
Christian Tafdrup - Parents
Best Original Screenplay
Søren Sveistrup - The Day Will Come
Best Adapted Screenplay
Thomas Vinterberg & Tobias Lindholm - The Commune
Best Actor
Søren Malling - Parents
Best Actress
Trine Dyrholm - The Commune
Best Supporting Actor
Lars Mikkelsen - The Day Will Come
Best Supporting Actress
Sofie Gråbøl - The Day Will Come
Best Set Design
Sabine Hviid - The Day Will Come
Best Cinematographer
Natasha Braier - The Neon Demon
Best Costume Design
Stine Thaning - The Day Will Come
Best Make Up
Erin Ayanian Monroe - The Neon Demon
Best Editor
Anne Østerud & Tanya Fallenius - Parents
Best Sound Design
Eddie Simonsen & Anne Jensen - The Neon Demon
Best Score
Cliff Martinez - The Neon Demon
Best Original Song
'100 meter mind dash' - Shelley
Best Visual Effects
Peter Hjorth - The Neon Demon
Best Short / Animation Film
SIA
Best Documentary
Who We Were
Best American Film
The Revenant
Best Foreign Film
Son of Saul
Best Short TV-series
Ditte & Louise II
Best Long TV-series
Follow the Money
Best Actor - TV-series
Thomas Bo Larsen - Follow the Money
Best Actress - TV-series
Louise Mieritz - Ditte & Louise II
Best Supporting Actor - TV-series
Esben Smed - Follow the Money
Best Supporting Actress - TV-series
Bodil Jørgensen - Christmas with Rytteriet
Blockbuster Audience Award
One two three go