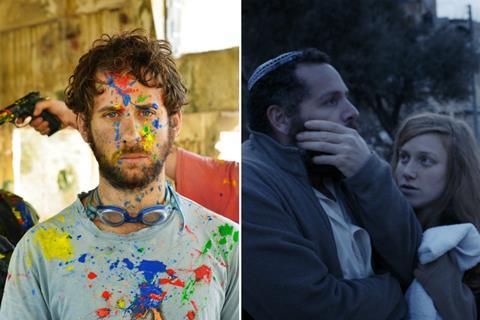 Jerusalem Film Festival presented its awards on Thursday August 2, with Yona Rozenkier's The Dive and Tsivia Barkai-Yacov's Red Cow sharing the best Israeli feature film prize and best debut film.
The Israeli competitions jury split the prizes between the two films "for their profound qualities and unique cinematic modes of expression, each in its own special way." The former award comes with a prize of 50,000 ILS ($13,500).
The Dive is about three brothers who reunite for a weekend to bury their father, before they head to war. The deserted kibbutz where they bury him becomes a surreal playground for a violent training ritual.
Red Cow follows 17-year-old Benny, an only child living with a fundamentalist father, whose religious, political and sexual life is changed by the introduction of a new young woman named Yael.
Best Israeli documentary film, with a 50,000 ILS ($13,500) prize went to Tomer Heymann's Jonathan Agassi Saved My Life, a look at the world of porn and escorting through the prism of one of the world's most successful gay porn stars. Heymann told Screen that he only got to make the film by convincing the actor's mother that he should do it.
The jury chose it "due to its powerful main character and narrative that reflects society's complexity."
International competition
In the international competition, best feature film went to Matteo Garrone's Dogman, a Cannes premiere about a man who runs a dog-grooming parlour in an Italian seaside town. The jury said "there is no emotion that the audience does not experience while watching 95 minutes of filmmaking at its best."
They also gave a special mention to Ali Abbassi's Border, another Cannes title, "for its uniqueness and originality, which surprised us more than any other film in the competition."
A FIPRESCI award for best international debut film was given to Camille Vidal-Naquet's Sauvage, while best Israeli debut film went to Keren Ben Rafael's Virgins. Rafael spoke to Screen about the creative process behind the film, saying that moving from English to Hebrew to French on the script was "a bit tiring, but also really enriches the film."
This year's Israeli Competitions jury was composed of Romanian director Calin Peter Netzer, Israeli director Anat Yuta Zuria, Polish director Małgorzata Szumowska, and French cinematographer Caroline Champetier.
The International Competitions Jury was made up of Screen's reviews editor Fionnuala Halligan, The Match Factory CEO Michael Weber, and Israeli director Elite Zexer.
This year's festival, which opened on July 26 with Eliran Malka's The Unorthodox, will close with Wes Anderson's stop-motion animation Isle Of Dogs. The is released in Israel on August 9.
Jerusalem Film Festival 2018 winners
Israeli competition
Best feature film – The Dive and Red Cow
Best debut film – The Dive and Red Cow
Best documentary film – Jonathan Agassi Saved My Life
Best director, documentary – Shaked Goren by My War Hero Uncle
Best screenplay – The Oslo Diaries
Best actor – Yoel Rozenkier, Micah Rozenkier and Yona Rozenkier for The Dive
Best actress – Avigayil Koevary for Red Cow
Best cinematographer – Oded Ashkenazi for The Dive
Best editing – Tal Rabiner and Alex Khosid for Jonathan Agassi Saved My Life
Best music – Assaf Talmudi for Redemption
Audience favourite award – Redemption
Audience favourite award, documentary – Wild Kids
International competitions
Best international feature film – Dogman (special mention: Border)
FIPRESCI award for best international debut film – Sauvage
FIPRESCI award for best Israeli debut film – Virgins
In The Spirit of Freedom award for best feature film – Happy As Lazzaro
In The Spirit of Freedom award for best documentary – Infinite Football
Pitch Point awards
Goralska award – Lot's Wife
Wouter Barendrecht-Lia van Leer award – Karaoke
DB & OPUS award – The Swimmer
Cinelab award - Africa