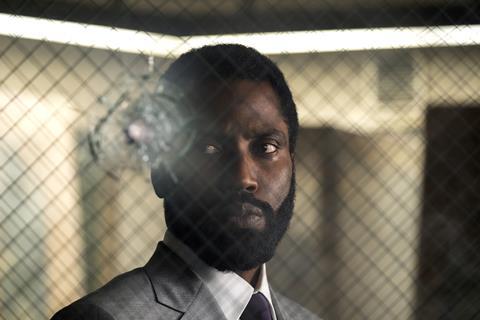 France, opening Wednesday August 26
As the population gears up for the country's traditional September Rentrée, marking the return to work and school after the summer, a number of films that were held back due to the Covid-19 pandemic are finally being released this week in addition to Tenet which Warner Bros France has opened on 800 prints.
They included Benoit Delépine and Gustave Kervern's Silver Bear-winning comedy Delete History for Ad Vitam, which was originally scheduled for the spring and was one of the hits of the Berlinale this year, and Disney's The New Mutants on 400 copies.
The dozen new films also include Eric Barbier's Rwanda-set drama Small Country: An African Childhood for Pathé and Pompei for Jour2Fête. The latter revolves around two brothers living in rural France who steal artifacts from nearby archaeological sites to survive after they are abandoned by their father. It world premiered in TIFF's discovery section last year.
Foreign-language debuts included Italian comedy drama Citizens Of The World for Le Pacte and Chinese drama Wisdom Tooth by Liang Ming for ASC Distribution. It marks a first international general release for the film which debuted in Macao last year and then played in Rotterdam.
Germany, opening Thursday August 27
Seven films in addition to Tenet are opening this weekend in Germany. They include Romanian-born Vlad Feier's feature debut, the crime drama Still Here, released by Kinostar, and D.C Hamilton's mystery romance The Fare, which is being handled by UCM.ONE.
Boonie Bears – Blast Into The Past, the sixth instalment in leading Chinese animation studio Fantawild Animation's highly popular franchise, is the first one to be released by Little Dream Pictures and is being launched on 200 screens in Germany, Austria, Switzerland, Liechtenstein and Luxembourg.
Little Dream is also opening Massoud Bakhshi's drama Yalda – A Night For Forgiveness, the winner of the dramatic world cinema grand jury prize at Sundance in January of this year.
Also on release is Eksystent Distribution's neo-noir crime drama The Wild Goose Lake from Chinese director Diao Yinan which screened in competition at Cannes in 2019.
Two feature documentaries are opening: Filmwelt has Ryan White's Dr Ruth about the legendary sex therapist and Holocaust survivor Ruth Westheimer, and Berlin filmmaker Jana Kaesdorf is releasing her own documentary Experiment Socialism about the challenges to Cuban-style socialism from the new world order via her own distribution company Sun Also Rises.
Italy, opening Thursday August 27
Warner Bros Italy opened Tenet on 700 screens on Wednesday August 26. It grossed some €400,000 on the first day and €290,000 on Thursday and garnered approximately 90.000 admissions over the two days.
Additionally, Satine Films is opening Dror Zahavi's Crescendo, a German musical-drama about the Israeli-Palestinian conflict that debuted at the Munich Film Festival last year.
Wanted has Judith Davis' French comedy Whatever Happened to My Revolution, while Teodora Film is releasing Mounia Meddour's Un Certain Regard 2019 drama Papicha, and Lucky Red is bringing Yorgos Lanthimos's Dogtooth to Italian cinemas for the first time.
UK-Ireland, opening Friday August 28
This weekend marks the most important for cinemas in the UK and Ireland since they began reopening in July.
Christopher Nolan's Tenet is the first major studio release in the territory since lockdown measures were imposed on March 20. Warner Bros. began previewing the title on Wednesday (August 26) and is hoping the highly-anticipated buzz around the espionage thriller will translate into strong box office over the UK's Bank Holiday weekend. Unseasonably cold weather is forecast which could be a boon for cinemas.
More cinemas have been reopening in preparation for the film, with more than half of all locations now operating. Venues will enforce social distancing in auditoriums so capacity will be around half of usual operating levels, but this weekend will almost certainly provide the biggest box office figures since March.
There are a handful of other titles opening today. Curzon-Artificial Eye will open Hope Gap as a day-and-date release on 39 screens and platform Curzon Home Cinema. The romantic drama debuted at Toronto last year and stars Annette Bening, Bill Nighy and Josh O'Connor.
Munro Film will open family animation Away on 56 screens, expanding to two further screens as cinemas such as London's BFI Southbank reopen (on September 1). The film is directed by Latvia's Gints Zilbalodis.
Trafalgar Releasing is giving BTS concert feature Bring The Soul: The Movie a re-release from August 28 to 30, promising a look at the South Korean's boy band's upcoming film Break The Silence: The Movie, itself set to open on September 10. The film will be re-released in 1,250 sites across 40 countries, and 220 in the UK alone. Bring The Soul sold 2.55 million tickets across 112 territories in August 2019, the widest ever release for an event cinema title.
Studiocanal is opening Michel Hazanavicius' French family feature The Lost Prince at one site, London's Cine Lumiere.