Suffragette ranks a close second.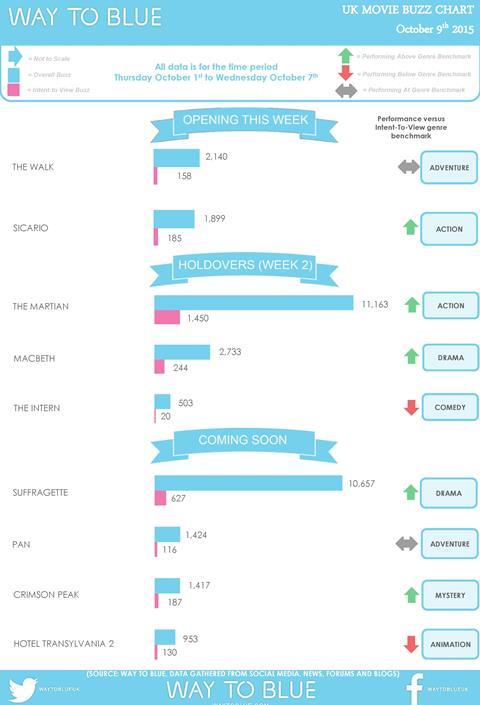 Ridley Scott's The Martian has topped this week's UK social buzz chart.
The film generated nearly 11,200 mentions across social media, news, forums and blogs after a week on release, according to analysis firm Way To Blue.
Of those, 13% expressed intent to view, meaning they would look to convert comments into cinema tickets.
Ranked a close second was Sarah Gavron's Suffragette, the period drama starring Carey Mulligan that opened the BFI London Film Festival on Wednesday – the scene of feminist protests on the red carpet.
Possibly helped by the extra media attention, the drama generated nearly 10,700 mentions (6% ItV) ahead of its release next week.
Third was Justin Kurzel's gritty adaptation of Macbeth, starring Michael Fassbender and Marion Cotillard, which recorded more than 2,700 mentions (8.9% ItV) after a week on release.
Due to the volume of films listed as wide releases next week, titles that failed to gain over 200 mentions have not been included. For this reason, Emma Watson's Regression (169 mentions) and Lance Armstrong biopic The Program (127 mentions) have not made the charts.