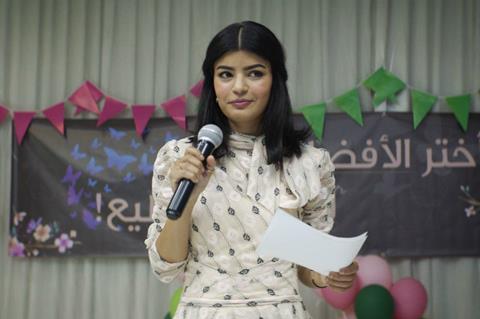 Speaking in Venice this weekend, German producers Gerhard Meixner and Roman Paul, co-founders of Razor Film Produktion, have expressed their optimism about the future prospects for the Saudi film industry.
Meixner and Paul broke new ground by producing Haifaa Al-Mansour's Wadjda (2013), the first feature shot entirely in Saudi Arabia as well as the first feature-length film made by a Saudi female director. Now, they've been back to Saudi Arabia to produce Al-Mansour's new feature The Perfect Candidate, sold by The Match Factory, which screened in competition earlier this week.
"It was scorchingly hot. That had stayed the same. Otherwise, we found ourselves in a place that had had significant change behind it – almost a different country," Paul commented.
Razor, which produced the film alongside Al-Mansour's Establishment for Audiovisual Media, was this time able to bring female crewmembers into the country. On Wadjda, famously, Al-Mansour had to direct outdoor scenes hidden in a van. "That was not the case anymore. Now, women and men can work together also in public," Meixner said.
"We've seen offices of companies where women and men sit together in the same room, women unveiled. They work together. It's not an issue anymore."
During shooting, there was a "mirror" crew with many of the main positions filled by two people, one from the German side and one from the Saudi side.
The Perfect Candidate doesn't yet have distribution confirmed in Saudi Arabia. Asked whether the film would be submitted to the new Red Sea International Film Festival, the country's first international film festival to be held in March 2020, Roman Paul said that decision would be left to Al-Mansour.
"They are the Saudi co-producers. That is their strategy. Of course, it's amazing that they have a film festival. When we shot Wadjda, there were no cinemas allowed. Now, they have not only theatres but they're going to have an international film festival."
There is no co-production treaty between Saudi Arabia and Germany and very few western companies other than Razor have worked there. However, Meixner and Paul say they will "definitely go there" again with the right project.
Following Venice, The Perfect Candidate screens in Toronto and London. Neue Vision will handle the German release, having come aboard the project at the financing stage. NDR also took the German broadcast rights at an early stage.
Razor continues to hatch projects both in Germany and internationally. The company was the co-producer of Dominik Moll's Venice title Only The Animals, also sold by Match Factory. It currently has Anne Zohra Berrached's new untitled feature in post-production. The film, about a student love affair in the 1990s which takes a tragic turn, should be ready for next February's Berlinale. A co-production with Haut et Court, which will handle French distribution, it is also sold by The Match Factory, with NDR and ARTE also on board.
Paul and Meixner are also the German partner on Bosnian director Jasmila Zbanic's Quo Vadis Aida (working title), which is produced through Zbanic and producer Damir Ibrahimovic's outfit Deblokada and which is being presented at the Venice Gap Financing Market. The film is a drama dealing with the tragic events at Srebrenica.
Other current titles on Razor's slate include Bangladeshi project Paradise, from director Bijon Imtiaz and producer Arifur Rahman, which is a love story set in a monastery. Razor is also partnering with UK producer Diarmid Scrimshaw's Inflammable on new UK-Indian crime drama Santosh, to be directed by Sandhya Suri.
The Razor bosses, who founded the Berlin-based outfit in 2002, also revealed that they will shortly embark on their first musical but declined to give further details.