Some 14 films selected to receive post-production, script and project development grants.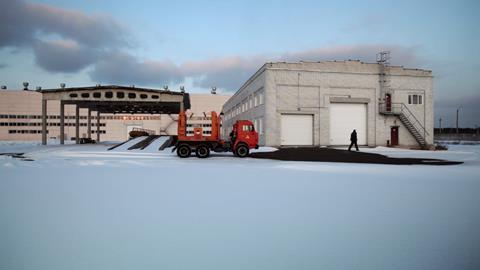 For its autumn selection round, the Hubert Bals Fund has selected 14 film projects to receive post-production, script and project development grants totaling €180,000 ($225,000).
The projects come from nine countries across Asia, Eastern Europe, Latin America, and the Middle East. The selection includes nine established filmmakers, including award-winning Ukrainian filmmaker Myroslav Slaboshpytskiy (The Tribe), and five first-time feature filmmakers.
In addition, €100,000 ($125,000) has been awarded to OAK Motion Pictures and Viking Film through Hubert Bals Fund Plus, whereby the Netherlands Film Fund provides the funding to Dutch producers who are co-producing a HBF supported film.
Script and project development
Based on his 2012 short Nuclear Waste, Slaboshpytskiy's new feature film project The Luxembourg was selected for a grant in the script and project development category, which can be used for the further development of the script or presentation of the project to financiers or other potential partners at (international) co-production meetings or film festivals.
The Luxembourg tells a tale of love and revenge set against the backdrop of Chernobyl's nuclear wasteland.
Slaboshpytskiy's previous film, The Tribe, winner of the Grand Prix at this year's Critics' Week in Cannes, was also supported by the HBF and will screen in the Limelight section of IFFR 2015.
HBF has selected several projects by upcoming filmmakers in the script and project development category, including two debut feature films by directors who previously screened their short films at IFFR.
Julia De Simone (Brazil), presented The Harbor in the IFFR 2014 Spectrum Shorts section and HBF is now providing financing for her debut feature, Corte Real, a layered hybrid story of the history of slavery in Brazil.
Argentinean director Mónica Lairana presented her short films at IFFR in 2010 (Rosa) and 2013 (Maria) and her HBF-supported debut feature La Cama is described as an intimate portrait of an ageing married couple.

Fall 2014 projects selected for script and project development support:
A Young Executioner, Li Luo, China
Corte Real, Julia De Simone, Brazil
Diamond Island, Davy Chou, Cambodia
La Cama, Mónica Lairana, Argentina
Neonboy, Marcio Reolon & Filipe Matzembacher, Brazil
Shanghai Youth, Wang Bing, China
The Centre Of The Earth, Gabriel Mascaro, Brazil
The Luxembourg, Myroslav Slaboshpytskiy, Ukraine
The Unfound (UFO), Sattha Saengthon, Thailand
To All Naked Men, Bassam Chekhes, Syria
Post-production
A post-production grant can be used for various activities in the post-production process, for example editing, colour grading or sound mixing.
Peruvian director and 2010 alumni of IFFR's Trainee Project for Young Film Critics, Juan Daniel Fernández Molero, has been awarded a post-production grant for his second feature Videophilia (And Other Viral Syndromes), described as a modern and visually psychedelic take on youth culture in Lima.
In total four film projects have been selected to receive post-production grants and all are expected to join the recently completed HBF-supported films that have been selected for IFFR 2015.

Fall 2014 projects selected for post-production support:
La Mujer De Los Perros, Laura Citarella & Verónica Llinás, Argentina
La Obra Del Siglo, Carlos Quintela, Cuba
Vanishing Point, Jakrawal Nilthamrong, Thailand
Videophilia (And Other Viral Syndromes), Juan Daniel Fernández Molero, Peru
Hubert Bals Fund Plus
Now in its ninth year, the Hubert Bals Fund Plus programme of The Netherlands Film Fund and IFFR gets Dutch producers involved in HBF-supported, international co-productions.
This autumn, HBF Plus support is granted to OAK Motion Pictures for the realisation of The Wound, John Trengove's first feature film on the ritual circumcision of a teenage gay Xhosa boy in South Africa.
The second grant goes to Viking Film for Oscuro Animal by Colombian filmmaker Felipe Guerrero, about the journey of three women forced to flee their homes following the violent conflict in their region.
HBF Plus has now supported five projects this year, including the three projects announced in May.
Fall 2014 projects selected for HBF Plus support:
The Wound, John Trengove, South Africa. Produced by OAK Motion Pictures (The Netherlands), Urucu Media (South Africa), Sampek (France), and Salzgeber (Germany)


Oscuro Animal, Felipe Guerrero, Colombia. Produced by Viking Film (The Netherlands) mutokino (Colombia), GEMA Films (Argentina), and ma.ja.de filmproduktion (Germany).Wound: Brent Stirton)