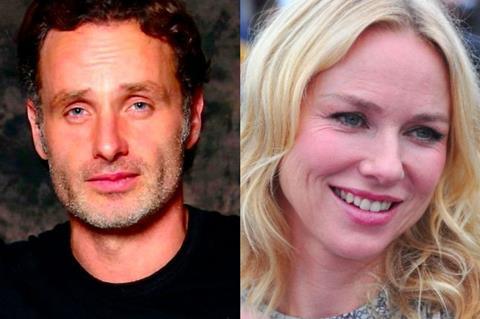 British star Andrew Lincoln of The Walking Dead has joined Naomi Watts on the family drama Penguin Bloom, which is set to begin production in Sydney, Australia, in August.
Glendyn Ivin (The Cry) will direct the adaptation of the novel by Bradley Trevor Greive and Cameron Bloom from a screenplay by Shaun Grant (Snowtown) and Harry Cripps (The Dry).
Roadshow will distribute in Australia and New Zealand, and Endeavor Content handles worldwide rights on the story about a family that gets through a tragedy with the help of an injured magpie chick they name Pengiun.
Lincoln will play Cameron Bloom, whose wife Sam Bloom (Watts) was left paralysed after she fell two storeys from a balcony while on holiday in Thailand. Then the young bird hops into their lives.
Watts is serving as producer alongside Emma Cooper and Made Up Stories' Bruna Papandrea, Jodi Matterson and Steve Hutensky. Cameron, Sam Bloom and Greive will also serve as executive produce alongside Ricci Swart.
"We were all captivated by this heart-warming story of resilience, the power of family and hope," said the producers. "We're thrilled to have the supremely talented Andrew Lincoln on board to bring the Bloom's story to audiences around the world."
Penguin Bloom is a Made Up Stories production with major production investment from Screen Australia, and is being financed with support from Create NSW. The book was published as Penguin Bloom in Australia and the UK, and went out as Penguin The Magpie in the US. Ten percent of worldwide royalties are being donated to spinal cord injury research charities, including SpinalCure Australia, Wings for Life, and the Christopher and Dana Reeve Foundation.
Lincoln also starred in Love Actually and the British TV series Teachers. He will reprise his role as Rick Grimes in the upcoming The Walking Dead films, which as announced recently at Comic-Con, will only play in theatres.
Double Oscar nominee Watts is currently shooting the prequel pilot to Game Of Thrones, and can be seen as Gretchen Carlson in Showtime's Roger Ailes saga The Loudest Voice. She will next be seen in Luce and The Wolf Hour, and her credits include Oscar-nominated roles in The Impossible and 21 Grams, as well as Mulholland Dr., Birdman, and Eastern Promises.