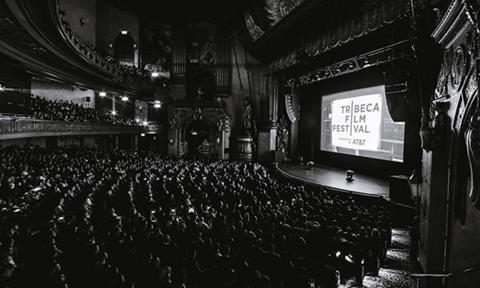 The Tribeca Film Festival presented by AT&T has launched the inaugural Tribeca Celebrates Pride, a day-long event on May 4 to commemorate the 50th anniversary year of the Stonewall riots.
The event takes place at the Tribeca Festival Hub at Spring Studios and will include one-on-one interviews with such LGBTQ+ luminaries as Neil Patrick Harris, John Cameron Mitchell, Larry Kramer and guest speaker Asia Kate Dillon.
Organisers have set conversations with Raul Castillo, Patti Harrison, Angelica Ross, and others to commemorate Stonewall, a milestone in the gay rights movement when a police raid on New York's Stonewall Inn on June 28, 1969, sparked six days of violent protests and demonstrations in and around Greenwich Village
Tribeca aims to highlight the LGBTQ+ experience through a curated programme of seven short films, all of which play in competition at the festival, which runs from April 24-May 5.
The day will conclude with the world premiere of HBO Documentary Films' Wig, which spotlights the art of drag, and centres on the annual New York festival, Wigstock, whose founder Lady Bunny will host a live drag show after the screening.
On-stage conversations will explore subjects like activism through the ages, persecution and asylum, LGBTQ media visibility, and Hollywood gatekeepers.
"This year, Tribeca will showcase artists who have used storytelling to bring people together around a common goal: inclusivity," said Paula Weinstein, executive vice-president of Tribeca Enterprises. "We've come so far in the fifty years since the Stonewall riots, but there is so much more to be done. In honor of that pivotal moment in our culture, we hope this day of LGBTQ+ storytelling-driven programming will not just honor the work of those who came before us, but also those who are helping to ignite the passion of the next generation."
Leading the programming for Tribeca Celebrates Pride is Lucy Mukerjee, a senior programmer at the Tribeca Film Festival, and formerly the director of programming at Outfest and Newfest LGBTQ Film Festivals.
"I'm thrilled to have this opportunity during my first year at the Tribeca Film Festival to bring the queer community and our allies together," said Mukerjee. "This exciting landmark event at the Festival showcases how fostering LGBTQ+ culture plays a role in moving society forward and creating a better tomorrow."
Tribeca Celebrates Pride partners include The Stonewall Inn, NYC Pride, and The Human Rights Campaign. Co-hosts include ACT UP, Callen Lorde, Immigration Equality, NALIP, NewFest, Queer|Art, The Trevor Project, Trans Can Work, True Colors United and Vocal NY. Rivianna Hyatt will speak on behalf of True Colors United and Laura A. Jacobs on behalf of Callen Lorde.