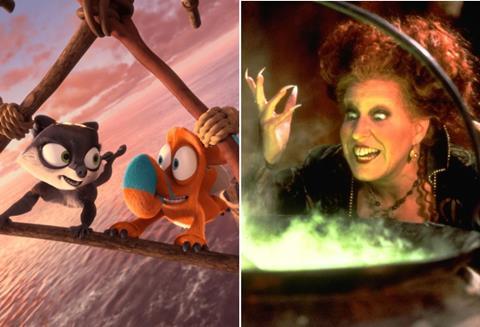 | | | | | |
| --- | --- | --- | --- | --- |
| Rank | Film (Distributor) | Three-day gross (Oct 30-Nov 1) | Total gross to date | Week |
| 1 | Two By Two: Overboard! (eOne) | £190,761 | £955,370 | 2 |
| 2 | Hocus Pocus (Park Circus) | £186,063 | £446,287 | 4 |
| 3 | Honest Thief (Signature Entertainment) | £152,555 | £573,597 | 2 |
| 4 | The Secret Garden (Sky Cinema/Altitude) | £142,101 | £615,981 | 2 |
| 5 | Tenet (Warner Bros) | £98,794 | £17.36m | 10 |
GBP to USD conversion rate: 1.31
eOne's Two By Two: Overboard! has floated to the top of the UK box office while a re-release of 1993's Hocus Pocus scored second place over the Halloween weekend.
The cumulative total for the top five films from October 30 to November 1 was £770,274, which is down on the previous weekend's £800,325 but remains a respectable amount given that social distancing measures remain in place and cinemas in Ireland, Northern Ireland and Wales are closed.
The next round of box office figures will be significantly diminished as cinemas in England will be forced to close from Thursday (November 5) until December 2 as part of a second national lockdown. Cinemas in Scotland will also be closed from today due to Covid-19 restrictions.
Animated feature Two By Two: Overboard! opened on October 23 in second place but has risen to the top spot with takings of £190,761 from 337 locations for a £575 location average. Including previews dating back to mid-October, it has now taken a total of £955,370.
The family adventure, produced by Ireland's Moetion Films, is a sequel to 2015's All Creatures Big And Small, and is also known by the title Ooops! The Adventure Continues.
Also rising up the chart was Park Circus' re-release of Hocus Pocus. The 1993 family fantasy feature, starring Bette Midler, rose to second place with takings of £186,063 from 305 locations and secured a £646 average. This is up 247% on the previous weekend, when it ranked eighth, and has taken £446,297 after four weeks on release.
Signature Entertainment's Honest Thief, which led last week's box office, dipped to third with £152,555 from 301 locations – a 28% drop on the previous weekend – for a cume of £573,597.
The Secret Garden, released by Altitude on behalf of Sky Cinema, grossed £152,555 from 192 locations for an average of £789 – the best average among the weekend's top titles. It has a total of £615,981 after two sessions.
Christopher Nolan's Tenet rounded out the top five for Warner Bros, adding £98,794 on its tenth weekend. The film has now reached £17.3m and is the third highest-grossing title of 2020 behind 1917 (£43.8m) and Sonic The Hedgehog (£19m).
Warner Bros also has Cats and Dogs: Paws Unite!, which added £86,600 to reach £1.36m on its fifth weekend; and re-released 2005 sci-fi V For Vendetta, taking £5,326 from 215 locations.
Topping the new releases was Blumhouse's The Craft: Legacy, which took £113,000 from 264 locations. The US supernatural horror is a sequel to 1996 cult classic The Craft, which grossed £3m through Sony International.
Also out through Sony was The Burnt Orange Heresy, which took £13,000 from 148 locations. Giuseppe Capotondi's art heist thriller closed Venice 2019 and stars Elizabeth Debicki, Claes Bang, Donald Sutherland and Mick Jagger.
Curzon Artificial Eye released Josephine Decker's Sundance 2020 thriller Shirley starring Elisabeth Moss into 53 locations, grossed £28,403 and an average £568. Including previews, it has a total of £48,770.
The distributor also broadcast US political documentary Boys State into 26 cinemas via a satellite event on Thursday (October 29), with takings of £2,226.
BFI Distribution opened UK drama Mogul Mowgli, starring Riz Ahmed, in 79 locations and took £19,613. Including previews at the BFI London Film Festival, the film has a cume of £32,591.
Wildcard Distribution conducted a limited release for Irish animation Wolfwalkers, taking £18,823 from 71 locations. It has a total of £31,507.
UK production company Fablemaze handled its own 41-location release for Guy Davies' Philophobia, taking £6,708, while Signature Entertainment released Natalie Erika James' horror Relic in 12 locations, taking £1,476.
Benjamin Ree's documentary The Painter And The Thief opened in eight locations through Dogwoof, taking £3,107, while Scottish football manager documentary The Three Kings opened on November 1 through National Amusements and took £2,842 from 55 sites.
Sovereign Films opened Melina León's Song Without A Name at two locations, taking £714. A planned UK tour of the film in November will be impacted by the imminent closure of cinemas in England.
Studiocanal horror Saint Maud added £61,408 on its fourth weekend for a cume of £806,822 while Paramount's first new title since the first lockdown lifted, crime comedy Pixie, added £59,799 from 306 sites for a cume of £286,662 after two sessions.
Universal's romantic drama All My Life added £25,253 on its second weekend for a cume of £128,991, while young adult romance After We Collided continued strongly for Shear Entertainment, adding £36,727 on its ninth session for a total of £3.96m.
Sofia Coppola's On The Rocks added £15,462 on its fourth weekend for Trafalgar Releasing on behalf of A24 and is now up to £436,437.
On its second weekend, Max Winslow And The House Of Secrets took £23,807 for Munro Films for a cume of £145,614.