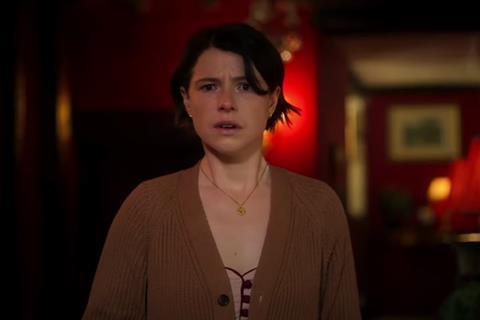 After it soared to the top of the UK-Ireland box office last weekend, Top Gun: Maverick is highly likely to hold onto the number one spot after the Queen's Platinum Jubilee bank holiday weekend, amid a quiet week for new openers.
The chief contender for breaking into the top five among this weekend's debuts is Top Gun: Maverick's fellow Cannes premiere Men, which opens at 570 sites for Entertainment Film Distributors – this weekend's widest new release.
The Directors' Fortnight title, which is directed by Ex Machina filmmaker Alex Garland, is a horror about a woman (Jessie Buckley) who escapes to the English countryside to heal from the sudden death of her husband (Paapa Essiedu), only to be met with unsettling attention from local men, all of which are played by Rory Kinnear.
Trafalgar Releasing is showcasing a live performance of the Metropolitan Opera in New York's Hamlet on Saturday (June 4), created by the Australian composer, violinist and conductor Brett Dean at 135 venues, with a further six showing a delayed performance.
Sony is putting Telugu-language Indian action drama Major in 75 sites. It's based on the life of Major Sandeep Unnikrishnan, who was killed during the November 2008 Mumbai terrorist attacks. Sashi Kiran Tikka directs, with Adivi Sesh, Sobhita Dhulipala and Prakash Raj starring.
Cannes 2021 competition title Bergman Island is playing in 50 locations, released by Mubi. The drama is directed by French filmmaker Mia Hansen-Love in her English-language debut, and follows a US filmmaker couple, played by Vicky Krieps and Tim Roth, who retreat to the Swedish island of Faro, where the lines between fiction and reality start to blur.
Vertigo Releasing is playing Eli King's debut The Lady Of Heaven in 30 locations. The feature is a historic drama about two stories separated by 1400 years – that of an Iraqi child who loses his mother amid the war, and the story of Lady Fatima, the daughter of Prophet Mohammed.
Rob Savage's follow-up to Host, Dashcam, is also out this weekend in under 25 locations. The found-footage horror follows US musician Annie Hardy who plays a version of herself as she escapes the Covid-19 lockdown in the US for the UK, and livestreams the terrors that follow.
The title has become embroiled in some controversy with cinema chain Vue – Savage in a tweet claimed that Vue pulled screenings of the film because it is too "offensive", while a statement from Vue said: "Our decision not to screen Dascham was informed purely by the commercial conditions not being viable. We are currently investigating the cause of the incorrect information about our rationale for not screening this film, and we are sorry for any confusion that this has caused."
606 Distribution is playing Elie Grappe's Olga – a Cannes 2021 Critics' Week title and the feature debut of French filmmaker Elie Grappe – in under 25 sites. It unfolds around a 15-year-old intensely dedicated Ukrainian gymnast, played by Anastasia Budiashkina.
Independent Cinema Office is putting The Camera Is Ours: Britain's Women Documentary Makers in 16 sites. The documentary tells the story of some of the key female pioneers of the British documentary movement beginning in the 1930s, culminating in the late 1960s.
I Am Zlatan is being released in eight sites this weekend, followed by 76 more next week. Jens Sjögren directs the drama about the life of Swedish footballer Zlatan Ibrahimović. Signature Entertainment is distributing.
BFI Distribution is re-releasing Robert Bresson's 1959 French title Pickpocket in eight sites.
Key holdovers this week, in addition to Top Gun: Maverick, are Doctor Strange In The Multiverse Of Madness, The Bob's Burgers Movie, Everything Everywhere At Once and Downton Abbey: A New Era.