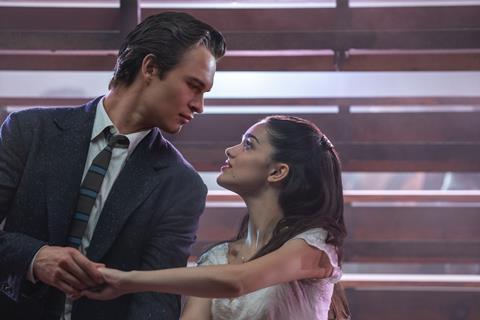 Steven Spielberg will be hoping to make moves at the box office with his version of West Side Story, which goes up against a top five packed with resilient holdovers.
At last week's UK-Ireland box office, House Of Gucci, Encanto, Ghostbusters: Afterlife and Eternals all stayed put in the top five, with the only new entry being filmed concert performance Christmas With André, which came in at number four, and knocked No Time To Die out of the chart for the first time in its 10-week run.
Multi-Oscar winner Spielberg's highest-grossing UK film remains Jurassic Park, which took £47.9m in 1993. Given enhanced concerns around the Omicron variant, it's unlikely that West Side Story will prove a contender for his personal best. His last title, Ready Player One, opened to a three-day total of £4m across 624 sites in 2018. West Side Story is receiving a wider release, with Disney opening it at 684 locations.
West Side Story is Spielberg's third collaboration with playwright Tony Kushner, who also scripted Munich and Lincoln. The director is positioning it as a reimagining of the original stage musical, as opposed to a remake of Robert Wise's 1961 film, which took $44m at the worldwide box office and won 10 Oscars.
This version, still set in New York in the late 1950s, sees Ansel Elgort and Rachel Zegler play star-crossed lovers Tony and Maria, who are caught up in the beef between rival gangs, the white Sharks and the Puerto Rican Jets.
Recent opening weekend results for musicals have been modest. In The Heights opened to £1.073m from 637 locations for an average of £1,684 in June, while Dear Evan Hansen took a very modest £233,686 from 275 locations for an average of £850 per location in October.
Another Oscar winner with a release this weekend is Aaron Sorkin. His biopic Being The Ricardos, about the relationship between I Love Lucy's Lucille Ball and Desi Arnaz, stars Nicole Kidman, Javier Bardem and JK Simmons, and will play at 25 sites through Curzon before landing on Amazon Prime Video on December 21.
Also released by Curzon this weekend is The Storms Of Jeremy Thomas, which follows producer Jeremy Thomas on his annual road trip to Cannes Film Festival, and is directed and narrated by Mark Cousins. It will play at six locations.
Just ahead of the Christmas school holidays, Clifford The Big Red Dog will be released in 566 sites by eOne and Japanese animated fantasy Sword Art Online The Movie: Progressive – Aria Of A Starless Night will be released at 150 sites, through Sony.
A24's Cannes premiere Val, about the life and career of actor Val Kilmer, will be released in around 25 locations.
Foreign-language titles
Opening this weekend also is Icelandic film Lamb, Vladimir Johannsson's directorial debut. The Mubi title premiered in Cannes and centres on a childless couple that discover a strange newborn on their farm and adopt it as their own. It's playing at 72 locations. In its opening weekend in October in the US, it grossed more than $1m, the all-time highest debut for an Icelandic film.
Bollywood film Chandigarh Kare Aashiqui, a Hindi-language transgender love story will open in 31 locations, through Cinestaan AA Distributors.
Maria Sødahl's Norwegian-language title Hope, starring Andrea Bræin Hovig and Stellan Skarsgård as a married couple who have become distanced, will play in 36 locations for Picturehouse.
Event cinema
Hoping to emulate the success of last weekend's Christmas With André, which took £707,381 in its first session, will be Gorillaz: Song Machine Live From Kong, a filmed performance from Damon Albarn's virtual band Gorillaz, distributed by Trafalgar Releasing and opening in 162 locations. The Royal Opera House's The Nutcracker went out as-live at 424 locations on Thursday (December 9), with an encore playing on Sunday.
Monsta X:The Dreaming is a documentary providing a look at the lives of K-Pop band Monsta X, including concert footage. Trafalgar Releasing is distributing in 130 locations.