There are a modest number of openers over the next couple of weekends at the UK-Ireland box office in the build-up to Disney's Avatar: The Way of Water landing on screens on December 16 and as festive fare settles in. This weekend's widest new release is Violent Night, playing at 588 sites for Universal.
Tommy Wirkola's alternative Christmas story sees Stranger Things star David Harbour play Kris Kringle during a particular trying Christmas Eve, with John Leguizamo as the leader of a group of dangerous mercenaries who take a rich family hostage inside their swanky compound. It's produced by 87North Productions – the outfit behind John Wick.
The Christmas offerings continue with the release of the CBeebies Panto: Dick Whittington And His Cat, in 447 sites, for Modern Films.
Paramount's thriller The Infernal Machine is out at 170 sites. Andrew Hunt directs the story about Bruce Cogburn, a reclusive and controversial author who is drawn out of hiding by an obsessive fan. Guy Pearce, Alice Eve and Alex Pettyfer star.
Sony has Sundance premiere Summering, a gender-swapped take on Stand By Me, at 110 sites. A dead body is discovered by four pre-teen girls in an American suburb. It's directed by James Ponsoldt, whose previous credits include Netflix series Master Of None and social media-based thriller The Circle.
Munro Film has Tribeca comedy India Sweets And Spices, directed by Geeta Malik, from the producer of Crazy Rich Asians, Sidney Kimmel, playing at 95 spots.
Japanese anime film Goodbye, Don Glees! plays at 60 sites for Anime Ltd. Atsuko Ishizuka directs the Tokyo International Film Festival premiere.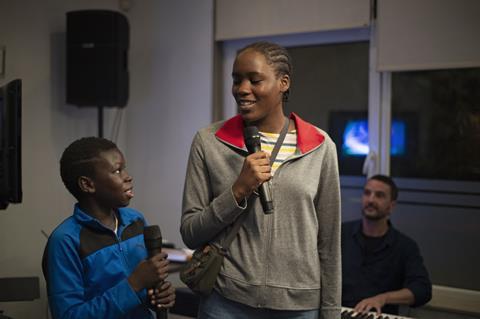 Belgian duo the Dardenne brothers get their widest-ever UK-Ireland release this weekend, with Cannes competition title Tori And Lokita playing at 57 sites for Picturehouse. It won the festival's special 75th-anniversary prize. In Belgium, a young boy Tori and adolescent girl Lokita try to survive after making the long journey alone from Africa. The filmmaking partnership's previous credits include The Kid With The Bike and Young Ahmed.
NCT Dream The Movie: In A Dream will play at 53 sites for Trafalgar Releasing – a concert film following South Korean boyband NCT. The distributor also has its documentary about Canadian-US musician Neil Young, Neil Young: Harvest Time, in 51 sites on Sunday (December 4).
Netflix's White Noise will play in under 25 sites. The disaster movie opened this year's Venice. It's directed by Noah Baumbach and adapted from the 1985 novel of the same name by Don DeLillo, with a cast of the usual suspects – Adam Driver and Greta Gerwig.
Classic re-releases
The first December weekend for the box office is plenished with re-releases of beloved wintery classics. Warner Bros has Michael Curtiz's 1942 Casablanca at 371 sites, while Park Circus has marked the 30th anniversary of The Muppet Christmas Carol by putting it out in 368 sites.
BFI Distribution is putting out Ingmar Bergman's 1982 period drama Fanny And Alexander in three sites.
Documentary drive
Documentaries are also well represented this weekend. Seventh Art Distribution is putting Phil Grabsky's Cezanne: Portraits Of A Life, exploring the life and work of 20th century French artists Paul Cezanne, in 22 sites. Holocaust feature Three Minutes: A Lengthening is based on a home movie shot by David Kurtz in 1938. From this, director Bianca Stigter recreates the story of a lost Jewish community in Poland before the Second World War. It's narrated by Helena Bonham Carter, and had its premiere at Venice, going on to screen at Telluride, Toronto, Doc NYC, Sundance and Dublin, where it won the documentary award. Curzon plays at 21 cinemas.
Dogwoof is releasing Lynch/Oz, in eight sites. The Tribeca premiere puts under the microscope the enduring influence of Victor Fleming's The Wizard Of Oz on the work of Twin Peaks and Mulholland Drive director David Lynch.
Irish filmmaker Luke McManus has directed, produced (with Elaine Gallagher) and self-distributed (with Robert Finn from Ireland's Break Out Pictures acting as a consultant) North Circular, exploring the people and music of Dublin's North Circular Road. It's funded by the Arts Council Ireland Reel Art scheme. It won a special mention at Dublin International Film Festival, and also played at Sheffield Doc Fest and the Galway Film Fleadh. The feature plays at five locations across the UK and Ireland this weekend, with two more Irish sites added the following weekend.
Screenbound is pushing motorsport documentary NW200 – The Real Road Race in five places. The International North West 200 is a hazardous motorsport event that, held on a street circuit known as the Triangle in Northern Ireland. Mark Sloper directs.
Also new this weekend in the arthouse sphere is mystery horror Dawn Breaks Behind The Eyes, distributed by Fractured Visions. It pays ode to the European cinema of the 1960s and 70s, and is the second feature from Kevin Kopacka.
Key holders include Roald Dahl's Matilda The Musical (Sony); Black Panther: Wakanda Forever (Disney); Strange World (Disney); The Menu (Disney); and She Said (Universal).