The UK Jewish Film Festival (UKJFF) has announced its 2017 award winners.

Directed by Jean van der Velde, with a screenplay by Matt Harvey, Dominic Morgan and Jean van der Velde, An Act Of Defiance was awarded the Best Film prize. The historical courtroom drama set in Apartheid era south Africa was selected by Simon Chinn, head of the jury, Henry Goodman, Daniel Gordon, Kate Muir and Ben Steele.
"[An Act of Defiance is] a powerful and important film that aims to correct the record in relation to this key moment in South Africa's history," Simon Chinn said.
"Compellingly told, accessible, and with fine performances this is a film which we hope will bring a little known aspect of the anti-Apartheid struggle to a broad international audience."
Elsewhere, The Women's Balcony took home the festival's inaugural Best Screenplay Award for writers Emil Ben-Shirmon and Shlomit Nehama.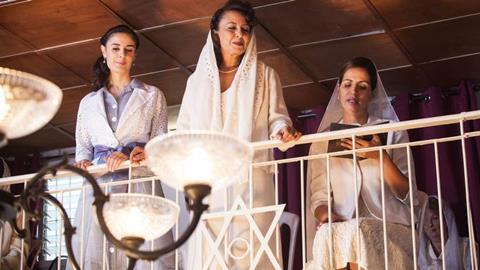 The award was presented halfway through the festival to Nehama by Nik Powell, head of the jury, at the Centrepiece Gala screening of 1945 by Ferenc Töröc.
Nik Powell said of The Women's Balcony: "Fresh, powerful and funny, the jury agreed that this was a story that was at once highly specific and universal. A film set within a close-knit, conservative Jewish community in Jerusalem but whose story might equally be told anywhere about any community. Full of warmth and gentle humour and with expert use of classical story telling devices it was a pleasure to spend time with these characters."
The other jury members included British playwright Ryan Craig, producer Marsha Lee, screenwriter Nicholas Martin (Florence Foster Jenkins), and Carol Russell.
"The impetus behind the creation of the Best Screenplay Award was to recognise and honour outstanding screenplay writing, which is so often overlooked," Lee said. "I am very proud to be able to give this award as the sponsor and that this is the Award's first year."
The UKIJFF Closing Night Gala screening of Past Life by Avi Nesher was accompanied by the announcement of further award winners.
Muhi: Generally Temporary (Rina Castelnuovo-Hollander and Tamir Elterman) and Land Of The Little People (Yaniv Berman) were given special commendations by the jury.
The UKIJFF 2017 Best Debut Feature Award went to Scaffolding (Matan Yair) and was selected by Michael Kuhn, head of the jury, with Archie Baron, Finola Dwyer, David Jenkins and Tracey Josephs.
The 21st UK Jewish Film Festival ran Nov 9-26.