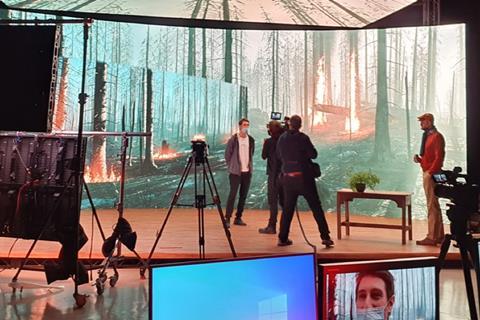 Arts Alliance Ventures' west London-based Garden Studios is planning further expansion to enable it to host large-scale feature productions.
Garden Studios opened in January 2021 as a 27,000 sq ft site, built out of pre-existing warehouses. The studio already includes The Orchid Campus, with 11 serviced offices, two shooting spaces totalling 40,000 sq ft and a 16,000 sq ft workshop. The Iris Campus is home to three soundstages and four production offices with green rooms, hair and make-up rooms and workshop units.
A new 95,000 sq ft site called The Lily Campus, of serviced production offices on 1.3 acres of land is due to open to productions from October.
Additionally, the Townsend Campus, which already includes a virtual production studio and shooting space, is expanding to include a dedicated costume and hair and make-up unit.
"We've been jam packed with exciting bookings since our opening, from new TV series, live events, feature films, to commercial content," said studio manager Marnie Keeling.
Garden Studios' expansion comes as UK studio spaces are in high demand, with the £700m Sunset Studios set to be built in north London and Netflix recently announcing its second long-term UK facility deal, at Longcross Film Studios.
"We're glad to be expanding so soon after our initial opening, to meet the rapidly growing demands of a vibrant UK production industry," said Thomas Hoegh, the CEO and founder of Garden Studios. "With the added footprint, we are now even more able to welcome large-scale feature film productions and high end TV series."