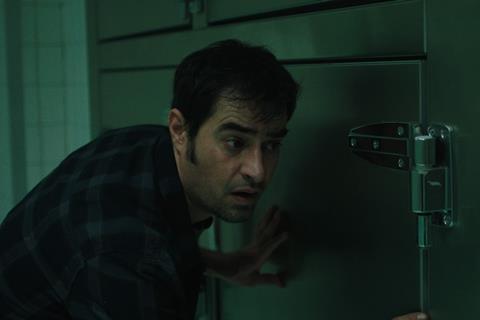 UK genre film festival Grimmfest has revealed the line-up for its first Easter edition, which will open with Kourosh Ahari's The Night and Lluís Danés' The Barcelona Vampiress.
The spin-off event to Grimmfest was established after its traditional October festival was moved online, due to the pandemic, and was meant to mark a return to physical screenings for the organisation. But ongoing cinema closures and restrictions will also see the Grimmfest Easter Edition go virtual from April 1-5.
The festival will open with psychological horror The Night, which IFC Films acquired for North America shortly before its screening at Sitges.
Starring Shahab Hosseini, winner of the Cannes best actor prize for The Salesman, the story centres on an Iranian couple living in the US who become trapped in a haunted hotel. The film is also notable for being the first US-produced film to receive a license for theatrical release in Iran since the revolution of 1979.
The second opening night film is Spanish crime thriller The Barcelona Vampiress, which won the audience award when it premiered at Sitges in October and was selected to screen at Tallinn Black Nights. The feature, based on real events that took place in Barcelona in the early 1900s, has also received 14 nominations at Catalonia's Gaudi Awards.
Further double bills will be made available to watch daily, accompanied by cast and crew Q&As and virtual introductions.
These will include the world premiere of US psychological drama Red River Road, which director Paul Schuyler made during lockdown starring himself and his family, and the European premiere of US satirical thriller Paradise Cove, directed by Martin Guigui and starring Mena Suvari.
Other titles include Swedish thriller The Other Side, co-directed by Tord Danielsson and Oskar Mellander, which scored a raft of sales after the AFM as well as a Guldbagge Award; and Jonny Martin's US virus horror Final Days (aka Alone), starring Teen Wolf's Tyler Posey and Donald Sutherland.
Grimmfest Easter Edition
The Barcelona Vampiress (Sp)
Dir: Lluís Danés
The Night (US-Iran)
Dir: Kourosh Ahari
Final Days (US)
Dir: Johnny Martin
Sweet River (Australia)
Dir: Justin McMillan
The Other Side (Swe)
Dirs: Tord Danielsson, Oskar Mellander
Mara (Rus)
Dir: Alexey Kazakov
Trans (S Kor)
Dir: Naeri Do
Red River Road (US)
Dir: Paul Schuyler
Keeping Company (US)
Dir: Josh Wallace
Paradise Cove (US)
Dir: Martin Guigui
Sleepless Beauty (Rus)
Dir: Pavel Khvaleev
Rendez Vous (Mex)
Dir: Pablo Olmos Arrayales
Threshold (US)
Dirs: Powell Robinson, Patrick R. Young
Clapboard Jungle: Surviving the Independent Film Business (Can)
Dir: Justin Mcconnell