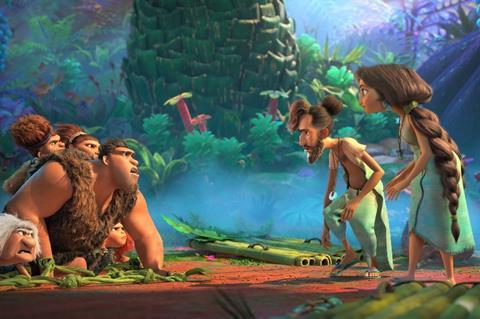 In another major development that impacts the traditional exclusive theatrical window, Universal and Cinemark have struck a deal whereby the studio's films can launch on PVoD after a minimum 17 days in cinemas, rising to 31 days where a film grosses more than $50m in the opening weekend.
The deal with the US's third largest exhibitor follows on from the ground-breaking pact with AMC announced in late July, and further accelerates the evolution of Hollywood's oldest distribution pipeline, and the nature of exhibition itself.
It also means Universal's blockbusters can go to PVoD after one month in cinemas, should the studio wish to do so. After 17 or 31 days depending on which case applies to a release, the studio has the option to move a film to PVoD, and once that has happened the film may continue to play in cinemas.
The arrangement covers Universal and Focus Features titles and kicks off with the release of DreamWorks Animation's The Croods: A New Age, which is set to open in US cinemas over the Thanksgiving holiday on November 25.
Universal is keen to preserve the theatrical prospects of franchise tentpoles like F9 and Jurassic World: Dominion and has pushed those films back to May 2021 and June 2022, respectively. By then it is anticipated cinemas in Los Angeles, New York and major international markets will have reopened, and audiences will feel more confident about returning.
While the PVoD component of the deal appears well suited for smaller box office prospects, the $50m clause caters not just to expected blockbusters but paves the way for break-outs to earn more in cinemas at the start of their release and trigger the traditional revenue waterfall.
It is understood the 31-day clause will also apply to and modify Universal's separate deal with AMC. Speaking in late July after the AMC deal was announced Mooky Greidinger, CEO of Cineworld, owner of the US's second largest chain Regal, said he did not see any business sense in the new model.
Observers speculated on Monday that the Cinemark deal will include PVoD revenue share, although details remained confidential.
Universal Filmed Entertainment Group (UFEG) chairman Donna Langley said the studio was "more committed than ever" to release films in cinemas, adding that the goal was to offer audiences "the optionality that they are looking for".
Cinemark CEO Mark Zoradi added that the deal would "evolve the exclusive theatrical window" and said it was in the "shared best interests" of studios, exhibitors and audiences.
The upcoming UFEG slate includes Focus comedy Half Brothers and Universal romance All My Life on December 4, Paul Greengrass western News Of The World starring Tom Hanks for Universal, and Focus' revenge saga Promising Young Woman with Carey Mulligan on December 25.
It emerged last week that while the US theatrical release of News Of The World remains on track, Netflix had acquired international rights.