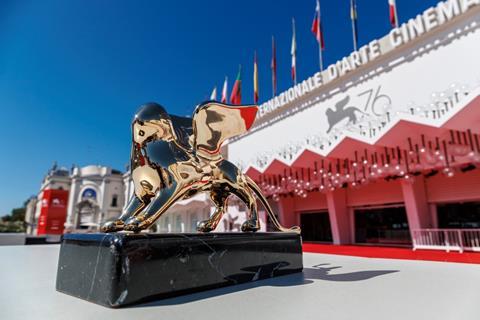 The Venice Film Festival's Gap-Financing Market has selected 33 international feature and documentary projects for its ninth edition this year, which runs from September 2-4.
The international projects nearing completion will have the chance to close their financing through one-to-one meetings at the Market, which is part of the Venice Production Bridge.
Each of the feature and documentary projects has at least 70% of its funding in place.
The countries in focus at this year's event are France and Taiwan, with a number of projects from each country receiving a special invite to the Market.
The Market also features another 27 immersive and virtual reality projects, and three Biennale College Cinema projects.
Feature film projects at the Gap-Financing Market
The 67th Summer (Fr- Aust- Egy)
Dir: Abu Bakr Shawky
Prod co: Cinenovo
Arcadia (Gr- Bulg)
Diri: Yorgos Zois
Prod cos: Foss Production, Homemade Films, Red Carpet
Be With Me (Tai)
Dir: Hwarng Wern Ying
Prod co: Sinomovie
Blue Banks (Rom-Fr-Slov)
Dir: Andreea Cristina Bortun
Prod cos: Atelier de Film, Films de Force Majeure, Perfo
Chasing The Sun (Ch-HK)
Dir: Huang Ruosong
Prod cos: Event Horizon Culture Media, Chinese Shadows
Cold (Ice- Bel)
Dir: Erlingur Thoroddsen
Prod cos: Compass Films, Eyjafjallajokull Entertainment, Mirage Films
An Endless Sunday (It-Ger)
Dir: Alain Parroni
Prod cos: Alcor, Fandango, Road Movies
Fanon (Fr-Lux-Bel-Can)
Dir: Jean-Claude Barny
Prod co: Special Touch Studios
Flow (Fr-Ger-Lat)
Dir: Gints Zilbalodis
Prod cos: Sacrebleu Productions, Cine Litte Productions, Dream Well Studios
The God Will Not Help (Cro-It)
Dir: Hana Jusic
Prod cos: Kinorama, Rosamont
Her Second Chance (It)
Dir: Vito Palmieri
Prod co: Articolture
Hold Me Tight (Urug)
Dirs: Ana Guevara and Leticia Jorge
Prod cos: Mutante Cine, Bocacha Films, Agustina Chiarino
Home (Isr-Ukr)
Dir: Or Sinai
Prod co: Baryo
Horizonte (Col-Fr-Chile)
Dir: César Augusto Acevedo García
Prod co: Inercia Películas
Houses (Batim) (Isr)
Dir: Veronica Nicole Tetebaum
Prod cos: Marker Films, Daizy Films
I The Song (Bhu-Fr-Tai)
Dir: Dechen Roder
Prod cos: Dakinny Productions, Girelle Production, Fidalgo Films
Indelebile (It)
Dir: Laura Chiossone
Prod cos: Twister, Adler Entertainment, Showlab
The Master Of This Silence (Fr-Pol-Ukr)
Dir: Jonathan Littell
Prod co: Veilleur de Nuit
The Mysterious Gaze Of The Flamingo (Chi- Fr-Mex-Sp)
Dir: Diego Céspedes
Prod cos: Rampante Films, Quijote Films, Les Valseurs, Varios Lobos, Irusoin
Noviembre (Col-Mex)
Dir: Tomás Corredor
Prod co: Burning Sas
SAM (Phil-Nor)
Dir: E del Mundo
Prod cos: Create Cinema Inc., DUOFilm
The Smell Of Freshly Cut Grass (Arg-Ger-Urug)
Dir: Celina Murga
Prod co: Tresmilmundos Cine, Mostra Cine, Weydemann Bros., Nadador Cine
Stranger Eyes (Sing-Fr-Tai)
Dir: Yeo Siew Hua
Prod cos: Akanga Film Asia, Films de Force Majeure, Volos Films
Tales Of Taipei (Tai)
Dirs: Pawo Choyning Dorji, Keat Aun Chong, KEFF, Rachid Hami, Norris Wong, Pei-Ju Hsieh, Joseph Hsu, Chen-Hao Yin , Liu Chuan-Hui, Tang Yi
Prod co: MA Studios
Titanic Ocean (Gr-Fr-Sp-Rom-Ger-Jap)
Dir: Konstantina Kotzamani
Prod co: Homemade Films
Who'll Stop The Rain (Tai)
Dir: Su I-Hsuan
Prod co: Suz Creative Studio
ZE (Fr-Mong-Port-Neth-Ger)
Dir: Lkhagvadulam Purev-Ochir
Prod co: Aurora Films
Documentary projects at the Gap-Financing Market
5 Seasons Of Revolution (Syr-Ger-Nor-Neth-Qatar)
Dir: Lina
Prod co: No Nation Films
Fatna, A Woman Named Rashid (Mor-Fr)
Dirs Helene Harder, Abel Aflam
Prod co: Wendigo Films
First Names (Arg-Fr-Ger)
Dir: Fernando Dominguez
Prod cos: CSP Films, Les Valseurs, Black Forest Films
Für Irena (Lith- Est-Bulg)
Dir: Giedrė Žickytė
Prod cos: Moonmakers, Allfilm, Agitprop
A Golden Life (Fr-Benin-Burkino Faso)
Dir: Boubacar Sangaré
Prod cos: Le Films de la Caravane, Merveilles Production, Imedia
The Monsters (working title) (Arg- Ger)
Dir: Manuel Abramovich
Prod cos: Ruido