CEO Kevin Tsujihara, whose studio has been bruised by poor reviews and flagging global box office for its costly Batman V Superman, played to the hearts of theatre owners in a presentation on Tuesday that reaffirmed its commitment to the theatrical experience.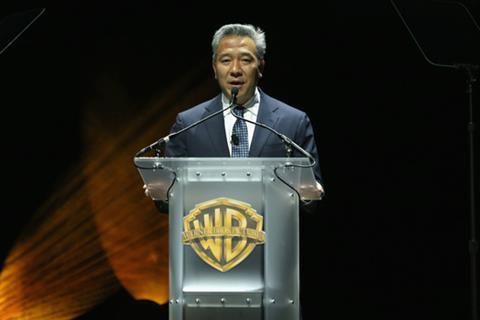 "Now more than ever we're finding that despite all the new technologies and platforms out there, people still want to go to the movies," said Tsujihara in opening remarks at the Colosseum, in Caesars Palace.
He was clearly targeting the elephant in the room, namely Sean Parker and Prem Akkaraju's proposed distribution platform that has so shaken up the exhibition sector and continues to be the talk of the convention.
The Warner Bros chairman drew sustained applause from attendees when he added, "I know there's been a lot of chatter about new players on the horizon. I assure you, we're not going to let a third party or middleman come between us."

However Tsujihara and his executive suite are too savvy to turn a bind eye to Screening Room and he went on to say Warner Bros would explore new options with its exhibition partners.
Uneasy public dance
That last remark reflects the uncertainty that hovers over Hollywood and has resulted in an uneasy public dance this week.
The dance was on full view when, later in the presentation, Will Smith and writer-director David Ayer took to the stage with Margot Robbie and fellow Suicide Squad cast members to promote the August 5 release.
While Smith brought his trademark exuberance to the occasion, attendees might recall that he and Ayer are collaborating with Netflix on the upcoming supernatural thriller Bright after Warner Bros and other studios chose not to match the $90m that the streaming giant reportedly paid to acquire worldwide rights.
Similarly the appearance by JJ Abrams the previous evening to collect his CinemaCon Showman Of The Year award did not sit too comfortably on that occasion, given the film-maker's stated support of Screening Room and his comments on stage that Hollywood needed to adapt.
Studio confirms Ben Affleck to direct stand-alone Batman film
Back to the show-and-tell. Tsujihara confirmed Ben Affleck would direct a stand-alone Batman film and once TV presenter Mario Lopez took over the reins as host, Affleck and Amy Adams appeared on stage to introduce a montage of previously announced DC adaptations featuring Aquaman, Wonder Woman and Justice League.
Zack Snyder sent a video message from the London set of the latter, surrounded by several cast members.
The star wattage remained high throughout the presentation. Russell Crowe talked up action comedy The Nice Guys, which is rumoured to be heading to Cannes and opens in May, while Emilia Clarke promoted New Line/MGM's romance Me Before You (June 3), and Patrick Wilson, Vera Farmiga and director James Wan tub-thumped The Conjuring 2 (June 10).
Kevin Hart appeared in the flesh after a taped introduction by Dwayne Johnson for New Line's action comedy Central Intelligence (June 17), and Alex Skarsgaard, Margot Robbie, Samuel Jackson, and Christoph Waltz introduced an action-filled teaser for Warner Bros/Village Roadshow's July 1 release of The Legend Of Tarzan.
Director Todd Phillips reiterated the joy of the theatrical experience as he introduced action comedy War Dogs (August 19) starring Jonah Hill and Miles Teller. The film marks the first from the production company Phillips launched with Bradley Cooper, who joined his partner on stage.
Warner Animation Group opens treasure chest
The penultimate segment saw The Lego Movie directors Phil Lord and Chris Miller join film-maker Nicholas Stoller in the trio's capacity as members of the Warner Animation Group think tank.
The film-makers heralded upcoming titles such as Storks (September 23), The Lego Ninjago Movie, S.C.O.O.B. – a Scooby-Doo revisit that they said would unlock the Hanna-Barbera universe – and The Lego Movie spin-off, The Lego Batman Movie. Star Will Arnett appeared for a brief slice of banter.
Rounding out the presentation was a look at the November 18 tentpole Fantastic Beasts And Where To Find Them, the Harry Potter spin-off that marks the first screenplay by JK Rowling. David Yates directs.
Stars Eddie Redmayne, Colin Farrell, Alison Sudol, and Dan Fogler appeared on stage and introduced several sequences.