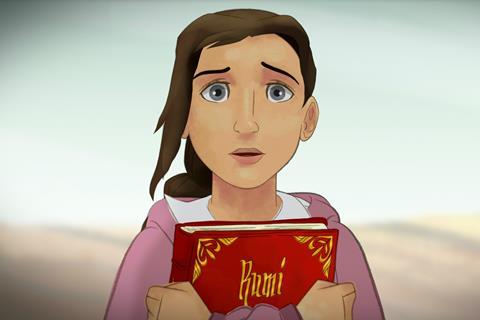 UK-based sales company WestEnd Films has boarded international sales on Alexander Kronemer's animated feature Lamya's Poem, which is part of the Works in Progress platform at Annecy Film Festival's digital event this week.
It will introduce the film to buyers both at Annecy and at next week's Cannes virtual Marché, where it will show first visuals on the in-production project.
Lamya's Poem tells the story of a 12-year-old Syrian refugee who, while fleeing the violence of her country, is given a book of 13th-century Persian poet Rumi's work. She enters a magical realm where she meets him, and the pair battle the monsters that follow them from their real world situations.
The voice cast includes Mena Massoud, star of Disney's 2019 Aladdin remake, as the young Rumi, with Millie Davis as Lamya and Faran Tahir as Rumi's father Baha Walad.
Kronemer, who previously wrote and produced 2016 mid-length documentary The Sultan And The Saint, has also written Lamya's Poem, which is financed through his Unity Productions Foundation and produced by Sam Kadi.
Brandon Lloyd is director of animation for Canada's PIP Animation Studios.
"In designing Lamya's Poem, we set out with the goal of creating a film that would have a mature look appropriate for the topic," said Kronemer. "The film will be presented as 2D, though there are many 3D elements that will be incorporated."
ICM is representing North American rights on the film.
WestEnd previously represented Oscar-nominated animation titles The Breadwinner and Song Of The Sea.