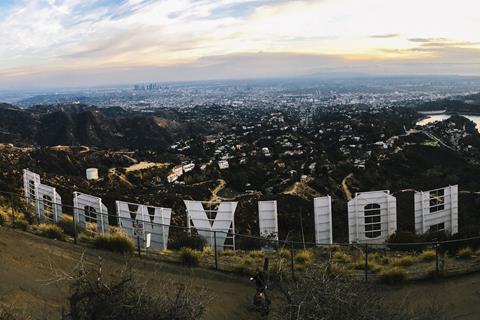 Writers Guild of America (WGA) leadership released a damning report on Tuesday (12) in which it said the agency business had become a "cartel" dominated by a powerful few whose practice of packaging fees and affiliated production entities violated their fiduciary duty to clients.
Unveiling the report, titled No Conflict, No Interest, during a conference call with reporters, WGA brass stressed they remained "focused on ending conflicts" as they headed into further talks with the Association Of Talent Agents (ATA) later in the day following a fractured negotiation process. The current agreement between the Guild and agencies expires on April 6 and affects the 10,000-strong WGAW membership, of whom some 250 are non-US writers.
Guild leadership was vague when asked by reporters for details on next steps. Expressing confidence that membership would approve a new code of conduct on March 25 banning packaging fees, they said it would be up to writers and the leadership how to proceed should the ATA not sign on to the new code on April 7.
WGA West (WGAW) assistant executive director Ellen Stutzman told reporters the major Hollywood agencies were emerging as "the next MCA" – a reference to the storied agency whose studio ownership ambitions alerted US authorities and was forced to divest its talent agency business after a 1962 antitrust lawsuit. The Guild initially declined to say whether it was planning legal action against the coterie of powerful agencies whose activities it claims have given rise to conflicts of interest.
WGA brass added they had told members they were preparing a lawsuit, but would not elaborate. The Guild's website states it is preparing a lawsuit that challenges the practice of packaging, which it says violates state conflict of interest law applicable to all fiduciaries, and represents "illegal kickbacks" to an employee representative under federal labour law. The website says the WGA is also "evaluating legal claims targeting other types of agency conflict of interest, such as producing."
Agency 'oligopoly' has broadened its mandate
The 16-page report claims an "oligopoly" of the four major Hollywood agencies – CAA, William Morris Endeavor, UTA, and ICM – have expanded their business operations through more than $3bn in outside investment to the point where their primary mandates have changed. The principal focus, the report asserts, is no longer the agencies' fiduciary duty to maximise clients' earnings and take a 10% commission. The new mandate is revenue from direct payments (by studios and networks) of packaging fees that are unrelated to client compensation and come out of film and TV production budgets and profits.
As a precursor to its examination of packaging fees and agency-affiliated production entities, the report summarised the spate of investment in agencies by private equity firms, which it said placed a mandate on agencies to return their owners' investments. In 2010 TPG bought a stake in CAA, then invested more funds so it owned more than 50%. International investors subsequently bought into the agency. WME received significant investment from Silver Lake Partners and others. It has returned a $400m invement by the Saudi Arabian sovereign wealth fund following an international outcry over the murder last year of Saudi journalist Jamal Khashoggi. PSP Investments and Investcorp have bought into UTA.
The report said that as a result the agencies have broadened their mandates to invest in investment banks, consultancies, advertising agencies, sports leagues, VC firms, and also negotiate licensing deals in sports, sell films, and work with corporations and celebrities to license their brands across various platforms.
Packaging fees
The WGA said packaging fees, which it admits are nothing new, and the more recent phenomenon of agency-affiliated production entities, violate fiduciary duty to clients under "multiple bodies of law" and have contributed to lower pay for writers, with median weekly earnings dropping 23% over 2014-16. No Conflict, No Interest said packaging has now grown to the extent where almost 90% of scripted series in the 2016-2017 TV season were packaged, with WME or CAA involved in 80 percent of those packaged series.
In TV, where the practice has been more prevalent, agency collects its fee for the life of the series and in some cases on spin-offs and reboots. The report outlines the structure of packaging fees in TV, where the 3/3/10 rule is applied so that the agency receives an upfront fee of 3% of the series licence fee, an additional deferred 3% of the series licence fee payable when the series achieves "net profits", and a percentage of the series' "modified gross" profits – usually 10% – payable for the life of the series.
The report noted how packaging fees can go higher when there is a drop in series costs, which includes client compensation. WGA research revealed average fees per writer-producer per TV episode have shrunk – barely higher than what they were in the 1990s, and less so when inflation is taken into account.
In film packaging, an agency takes its packaging fees on top of its usual 10% commission for clients it represents, as well as sales representation in some cases, and retainer fees charged to some producers, financiers, and sales companies in some cases.
Cold Case showrunner Meredith Stiehm, a member of the WGA West board who co-chairs the negotiating committee with former WGA West president Chris Keyser, told reporters that CAA did not notify her when it took a packaging fee at the onset of the show. "CAA made 94 cents for every dollar that I earned," Stiehm said.
The Walking Dead, Head Of The Class
The report cited several cases. Recent litigation revealed that CAA had been negotiating with AMC on a packaging fee surrounding The Walking Dead, before CAA client Frank Darabont signed his deal to develop, write, direct and co-produce the future hit. It also emerged that CAA took its profit share "off the top" before Darabont collected his share.
In 2011, Michael Elias and Richard Eustis, cre­ators of the 1980s television series Head Of The Class, sued CAA for breach of fiduciary duty when they dis­covered the agency had received a greater share of the TV series' profit than they had. They said CAA was paid more than $12m according to a profit participation statement. The agency earned $8.8m in profit, compared to $8m earned by the creators.
Agency-affiliated production and sales operations
With regard to sales representation, the most relevant obvious example is Endeavor Content's purchase of a majority stake in the sales agency Bloom in late 2017, which the agency fully acquired in late 2018. Endeavor Content also announced a partnership with Chernin Entertainment to finance, develop and produce scripted series.
In 2017, CAA launched a $150m fund with Bona Film Group, and launched the studio Wiip to produce several series for Facebook and Apple. Furthermore CAA investor TPG has invested in STX Entertainment, and the Platform One Media TV studio. Last year UTA entered the game with private equity investment in August, and announced last October a joint venture with Media Rights Capital called Civic Center Media to develop, finance and produce TV series.
The report said the agencies' affiliated production entities that employ their own clients create an inherent conflict. Agency-producers have an incentive to withhold talent from competing employers, and could in theory exclude producer and financier clients from certain projects being produced by their agency, and clients may find themselves competing with their agency for access to the best material.
Screendaily has learned there is concern among rival sales agencies that agencies might funnel prime projects through their own in-house sales operations, although thus far this has not appeared to be the case.
The agencies argue that talent save their 10% commission if their agency is one of the packaging agents on a show, and claim talent would pay more were packaging fees to be eliminated, while studios would pay less. With regard to production, the agencies say that consolidated studios, networks and distributors are less willing to finance and distribute a higher volume of content, which is why agencies have taken on greater responsibility in these areas.
Screendaily reached out to the ATA for comment on the report and had not heard back at time of writing.