Euro-produced family movie lined up for December 2017 release.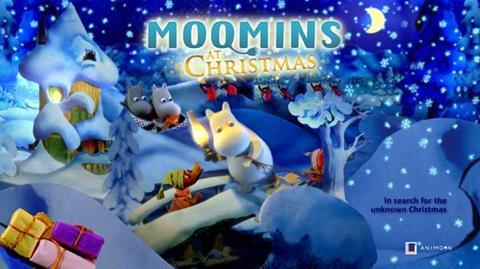 Poland's Animoon and Finland's Filmkompaniet have confirmed plans for a new holiday themed feature, Moomins at Christmas, set for release in December 2017.
The company previously worked on 2010 feature Moomins and the Comet Chase, which was released in 3D and distributed in more than 80 countries.
The new film, which also counts Animoon as a partner, is based on Moomin creator Tove Jansson's classic books, with a screenplay from Małgorzata Więckowicz-Żyła, Piotr Szczepanowicz and Ira Carpelan.
Producers are Grzegorz Waclawek and Piotr Szczepanowicz for Animoon, with executive producers Ira Carpelan and Tom Carpelan for Filmkompaniet.
The film will be created from existing, vintage footage from the stop-motion productions originally coproduced by Jupiter Film and Film Polski in the 1980s.
The footage will be edited and restored to 4K quality alongside newly created opening titles and credits.
The story follows Moomintroll as he decides to stay awake and explore the holiday season, instead of taking his usual winter slumber. Encountering the strange creatures that wander the snowdrifts and midwinter darkness of Moominvalley, Moomintroll is curious to learn that an eccentric guest named Christmas will be making an appearance.
Directors Jakub Wroński and Ira Carpelan said: "We believe that Moomins at Christmas will be a warm and important film that conveys a clear message. It will encourage the audience to reflect upon family, relationships and the feelings we have during our first Christmas. The understanding of the Moomin world and their inclusive way of thinking is vital to this production, so we are working as a team to maintain this sentiment throughout the narrative of the film".
The Moomins franchise, now more than 65 years old, has inspired nine different TV series as well as films, radio plays and an opera. Another new Moomins project in the pipeline is Filmlance International's new Moomins animated series directed by Oscar winner Steve Box (Wallace And Gromit: The Curse Of The Were-Rabbit).
The Moomins at Christmas producers, also with Universal Music and SDI Media, are today releasing a record-setting batch of YouTube videos in 23 languages for the film's song Bring The Snow, performed by City of Prague Philharmonic Orchestra with lead vocals by various local recording artists.