Iranian film-maker Babak Jalali talks about working with Metallica's Lars Ulrich and Iranian singer-songwriter Mohsen Namjoo on the set of comedy Radio Dreams, set to world premiere in the International Film Festival Rotterdam's competition on Monday (Feb 1).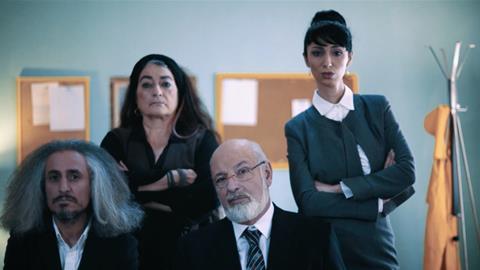 Metallica drummer Lars Ulrich is a pivotal figure in Iranian director Babak Jalali's off-beat comedy Radio Dreams, set against the backdrop of a Farsi-language radio station in San Francisco, but the main draw for many of the film's future spectators will likely be another star – the Iranian singer-songwriter Mohsen Namjoo.
"He is the main actor in the film. He is quite an icon among Iranians and has a huge following," explains Jalali. "He's someone who is open to doing a lot of different things. He acted in one film when he was back in Iran and got involved in theatre in recent years although he remains primarily a singer-songwriter."
The New York-based musician – sometimes referred to as the Bob Dylan of Iran – plays the long-suffering Mister Royani, the head of programming at a rickety radio station serving the Iranian and Afghan expat community in San Francisco.
A celebrated author back home struggling to find his place in the US, Royani is committed to high-brow, poetic, thought-provoking content but has to fight for airtime with the station's commercial director who is desperate to fill the schedule with cheesy, in-house ads for local dermatologists, Persian pizza houses and the like.
Taking place over the arc of one day, Radio Dreams revolves around the lead-up to a guest appearance at the station by Metallica's Ulrich for a jamming session with the real-life Afghan rock band Kabul Dreams.
It is a second feature for Jalali – who was born in Iran but grew up in the UK, where he gained an M.A. in film-making at the London Film School – after the much-praised Frontier Blues set on Iran's northern border with Turkmenistan, which premiered at Locarno.
He explains his involvement in the film came about in a roundabout way after he was approached by San Francisco-based producer Marjaneh Moghimi.
The producer, who had previously focused on documentaries, with credits including Fifi Howls From Happiness about acclaimed Iranian artist Bahman Mohassess, wanted to embark on her first feature-length fiction production.
She had most of the financing in place through the support of the San Francisco-based Neda Nobari Foundation, which helps artistic projects by Iranians living in the US, which took an executive credit on the project. It was a first feature for the foundation too.
"We met in Berlin 2014 to discuss a potential collaboration. Marjaneh wanted the project to be about Iranians living in San Francisco. In the summer of 2014, I went to San Francisco to stay with Marjaneh to work on the script," says Jalali.
In the meantime, Moghimi had convinced Namjoo, an old friend, to come on board. By chance, the development of the project also coincided with the three members of Kabul Dreams moving to San Francisco. The three elements of the San Francisco setting and the involvement of Namjoo and the band inspired the screenplay.
"I decided to base it on a band which has just arrived in the US from Afghanistan and is about to meet a very big American band. Metallica immediately sprang to mind because they're the biggest band living in the Bay Area. Marjaneh approached them and Ulrich agreed to get involved too. I think he was intrigued by the idea of a bunch of Iranians and Afghans making a film in the Bay Area and was also curious about Namjoo and Kabul Dreams. When he came to the set it was clear he had done his research on both, he had watched their videos and listened to their music."
The rest of the cast were non-professional actors drawn from San Francisco's Iranian community. At the heart of the script is an exploration of expatriate life.
"It's a story about people living outside of their home countries, where they might have had different aspirations and different kinds of dreams - and how they go about trying to achieve them in a new place," says Jalali. "None of the cast was playing themselves but a lot of them had experienced this situation where you can sometimes be a bit aimless and lost as you try to make the best of life in a new place."
The decision to base the film mainly in a radio station and over the space of one day was due in part to the film's small budget - $300,000 – but also the fact that Jalali likes compact settings and timeframes.
"I like generally like things which happen in a short space of time," he comments, adding that it was a fast turnaround to get the project from the idea to the shooting stage.
"I wrote the script in the summer and by October, I was back in San Francisco for pre-production. We had a 24-day shoot. I used a local crew apart from the cinematographer and assistant director, who were friends from Europe. It was a bit of a cowboy style way of making a film. I wrote the script very quickly and it wasn't locked down. I was open to it being fluid and changing."
'Land'
For his next project Land – a modern western set in a Native American reservation in New Mexico – Jalali is taking a very different approach.
The feature revolves around a family, wracked with the modern Native American scourge of alcoholism, as they await for the return of the youngest son Floyd's body after he is killed during military service in Afganistan.
Jalali has been working on the development and financing of the project for the last four years, winning the top prize at the Torino Film Lab in 2012 as well as securing the support of Eurimage, France's National Cinema Centre (CNC) and the Doha Film Institute.
"After finishing post-production on Radio Dreams in October, I spent two months in America casting, went back home to London for two weeks over Christmas, and then came back to continuing casting. I'll start pre-production in mid-March," says Jalali, who is aiming to start shooting by end-April, start-May.
The Italian-French-Dutch-Mexican co-production — involving Rome-based Asmara Films, Paris-based The Cup of Tea, The Netherlands' Topkapi Films and Mexico's Piano – is sold internationally by Bac Films. International sales rights on Radio Dreams, meanwhile, have just been acquired by Paris-based Reel Suspects which has scheduled a market screening at the upcoming EFM.