Colombian director Felipe Guerrero explains why he cut out dialogue in his debut feature Oscuro Animal, which receives its world premiere at the International Film Festival Rotterdam (IFFR) today (Jan 29).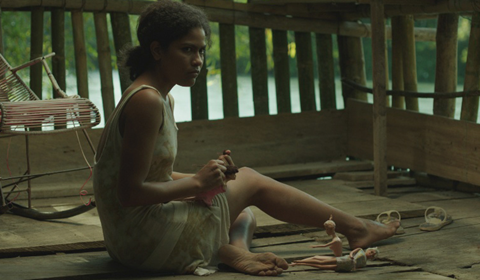 Colombian director Felipe Guerrero's debut feature Oscuro Animal follows three women on the run from situations of extreme violence, coming to terms with the physical and psychological impact of their brush with the darker side of human nature.
Like many Colombian filmmakers of his generation Guerrero has been profoundly impacted by his country's 50-year armed conflict between government forces, right-wing paramilitary groups and left-wing guerrilla organisations, which has displaced some five million civilians and killed more than 220,000 people.
Oscuro Animal is directly inspired by real events in Colombia although the conflict is never directly alluded to in the film.
"The story is my own creation but its based on real facts. I started working on it some 15 years ago when the conflict was more intense," says Guerrero. "I did a lot of research, reading as much as I could and interviewing victims and refugees about what had happened to them. In the course of the research, it dawned on me that women were the biggest victims of the conflict but at the same time they were the ones who were best equipped to overcome the violence they had suffered. I was drawn to this inner female strength."
Asked if it is possible to be a director in Colombia without tackling the war, Guerrero replies: "That's an interesting question. I don't know. For me this film is not about war but rather the traces left by a war. The sensation it leaves in the body of the victim, how do you live with that beast, that experience of man's dark side? This was the focal point of the film for me. It's a survival film, not a war film, about how to survive war and the traces its leaves behind."
Guerrero concedes that the film is topical and universal on a number of levels and that the experiences of the three women could be applied to numerous conflicts around the world today. It was partly for this reason, he says, that he does not make any direct references to the Colombian war in the film.
"I wanted it to be more abstract. I tried to avoid direct references to Colombia's war. The uniforms in the film, for example, are not real military uniforms and do not represent any particular group," he explains.
The film's three female protagonists extricate themselves from different violent situations in the same forest and head for the Colombian capital of Bogota in search of a safer environment. La Mona escapes a psychotic paramilitary boyfriend by stabbing him in his sleep; Rocío flees her home after it is surrounded by paramilitaries, and Nelsa is a former paramilitary who decides to leave the militia after she witnesses the brutal execution of a group of farmers.
Actress Marleyda Soto, who was in César Augusto Acevedo's feature debut Land and Shade which won the Cannes Camera d'Or at Cannes last year after premiering in Critics' Week – plays Rocío, opposite big screen debutants Luisa Vides and Jocelyn Meneses
Guerrero has taken the unusual step of shooting the film without dialogue, relying instead on a rich soundscape and the body language of the three actresses to convey the drama.
"I didn't start off with the idea of not having dialogue. It came to me as I was developing the screenplay. I got into the skins of the protagonists. I didn't feel like they would want to talk after what they had been through. It was like they were in a closed universe, disconnected from reality."
The film was shot in a "wild area" some six hours from Bogota, which today is relatively safe but was once a hotbed of paramilitary activity.
"Although the conflict has calmed down and there is talk of peace it's still extremely difficult to find a safe place to shoot in Colombia especially when you've got a big group of people and lots of expensive equipment," says Guerrero. "Our location was relatively calm but a lot of killing had taken place in the area — whole families had been slaughtered. There was a code. It was clear that we shouldn't ask too many questions, shoot our film, and then leave. We developed a special language on set so we could communicate without revealing too much to the locals so as not to endanger the film."
Guerrero produced the film under the banner of own company Mutokino alongside Argentine producer Gema Juarez Allen of Buenos Aires-based Gema Films with Dutch Viking Film, German Sutor Kolonko and Greek Boo Productions on board as co-producers.
Rotterdam's Hubert Bals Fund supported the film alongside Germany's Film-und Medienstiftung NRW, WCF Europe, Columbia's Film Development Fund (FDC) and Argentina's INCAA.
Oscuro Animal is among four Colombian films screening at Rotterdam this year alongside the Oscar-nominated Embrace of the Serpent and the medium-length works Entrelazado and Deseos. Guerrero puts the current strength of the Colombian film-making scene down to the work of FDC, which was set up along the same lines of France's National Cinema Centre (CNC) some 10 years ago.
"The Colombian film financing system is envied by film-makers across Latin America. The best thing about it is that it's not linked to a political system but rather cinema receipts. It's the continuity of this system over the last 10 years has had a big impact."
After its competition screening in Rotterdam, Oscuro Animal will get its Colombian premiere at the Cartagena International Film Festival in March, ahead of a home release in August or September.
"In a way I think I belong to a new generation of Colombian directors who treat the war in a different way, with a post-conflict viewpoint and distance from the immediate facts," says Guerrero. "I expect it will prompt a lot of debate when it come out."