Prabda Yoon's directorial debut Motel Mist - world premiering in the IFFR 45th Hivos Tiger Awards Competition - is the perfect summary of his prolific career.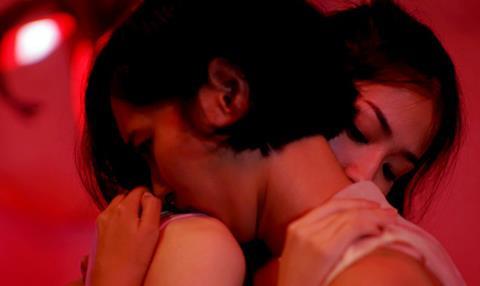 Known to Thai audiences as a writer, he has penned over 20 fiction and non-fiction novels, numerous short stories (nabbing Thailand's prestigious S.E.A. Award for his collection of shorts Kwam Na Ja Pen) and screenplays for Pen-Ek Ratanaruang's Last Life in the Universe (2003) and Invisible Waves (2006).
Completing design degrees from both Parsons College and The Cooper Union in New York, the artist includes graphic design in his plethora of work titles, designing the majority of his book covers, as well as exhibiting work in Thailand and Japan.
Yoon also points out a spell of music production - where he produced and wrote songs for the electronic band Buahima and the folk group The Typhoon Band.
To put it mildly, Yoon is not short of creative talent. But he singles out film-making as the culmination of all his passions - a trade he is eager to expand on long after his first foray with the micro-budget, socio-political feature Motel Mist.
You are here in Rotterdam with your first completed film. Can you talk about what that means to you, after having already achieved a significant amount of praise for your writing and graphic design?
I want to do another film right away. When we finished [the 15-day shoot], everyone in the crew was exhausted. But not me - I wanted to keep going. I see film-making as a way that combines art, design, storytelling and music - a movie is exactly what I should be making.
You were raised in Bangkok (by his father, cofounder of The Nation newspaper and current CEO of Nation Multimedia Group and his mother, former magazine editor and novelist) followed by an 11-year stint studying in the US. How has that influenced your work?
I went to boarding school in Cambridge, Massachusetts because my father got a fellowship from Harvard. Next, I went to Parsons [School of Design] for two years and then The Cooper Union, a scholarship-based school that focuses on art, engineering and architecture. It was there I learned about fine art - studying graphic design, experimental film-making and sculpture.
What made you return home to Thailand?
I never thought I would. I imagined living in New York and working as a graphic designer at some advertising agency. But when I was told I had to complete a stint in Thailand's army [otherwise he would not be allowed to work in his home country], I made the difficult decision to return home.
How did you segue to working as a writer?
When I finished six months in the army (shortened due to his completion of a degree), I had a lot of time to think about what I wanted to do. I realised you have to listen to your heart. For me, it was writing short stories in fashion magazines, which led to short stories, then novels and on to designing my own book covers.
What made you decide to direct a film about a love motel, filled of eclectic characters including two school girls involved with a man that is obsessed with sexual fetishes and a former child actor who believes aliens are chasing him?
Sex - whether you have different sexual preferences or fetishes - is symbolic of feeling alien, that feeling where the norm is different from you. It's also remindful of B movies. I love cult films. I know I am not that kind of film-maker, but I like those elements. When I think of vampires and aliens, I don't think of Hollywood - I am more interested in the theme and how to expand on those fantasy ideas.
You have also been outspoken about your discontent with Thailand's political system. Would you say this film is commenting on your socio-political views?
I feel frustration as an artist working in Thailand, that I can't express my concerns about the current political situation. It is very suppressed. If you say anything against the norm - the right-wing conservatives tell you to get out of the country, or worst case, arrest you. It's like Invasions of Body Snatchers where people are pointing at you. You are not allowed to be a liberal - that is seen as a threat. So yes, there are some parts of the film that are a reflection of the discourse in Thailand. But I don't consider myself a political artist.
You filmed in an actual hotel. Can you talk about that experience?
We were lucky to be able to shoot in this 'fancy love motel'. It is actually called Gigs Town - which is slang for having an affair. These are very common in Thailand. We changed the name to Motel Mistress in the film, which we thought was funny.
The colours and art direction are incredibly vibrant. How did you and art director [Rasiguet Sookkarn] decide on this aesthetic style?
I always wanted to make films that are visually stunning. At the time, I was visiting New York, and went to a photography exhibition at the Whitney Museum. Coincidentally, it was exactly how we wanted Motel Mist to look.
When filming, we only had two rooms to work with - and we had to return them to normal when finished so we were a bit nervous. But we managed to create a bright pink room, where the older man (played by Surapol Poonpiriya whose daughter is budding actress June Patcha Poonpiriya of Mary is Happy, Mary is Happy fame) recreates his sexual fantasies with two younger girls (played by Prapamonton Eiamchan and Katareeya Theapchatri).
In the other room, where it turns from blue to black, an actor thinks he is being watched by aliens. We managed to get Vasuphon Kriangprapakit, a singer that is popular among younger people. He was so devoted to the part - he became a completely different person. He was working hard for us - as was the rest of the cast, for very little money.
Music also plays a big part, can you talk about its role in the film?
It also slightly represents the political sphere of Thailand. In the beginning, it is all about the men having control - so you hear more conventional classical music like Strauss and Brahms. When the power suddenly shifts, the music becomes more progressive. I worked with the musicians Jitivi Banthaisong and Siwanut Boonsripornchai to create a more eclectic sound.
What was the budget for the film?
We shot for 15 days with an estimated budget of $200k. It's incredible. The producers [Soros Sukhum, Cattleya Paosrijaroen] and I sat around asking ourselves, 'Why are we doing this? We are making no money, nor is anyone else making this film.' I know for my next film I want to make something bigger, so I can actually pay the cast and crew.
How did you secure funding?
This film was funded by television channel True Visions. They are the biggest mobile and broadcasting company in Thailand. They have a channel called Thai Film that shows original Thai material. Every year they give out money for a couple of projects. So they own the copyright of the film - but they allow us to send it to festivals, show it in cinemas - but in the end the film must be shown on their channel, and they take 50% of the profits.
What's next?
I have already written a synopsis for my next film, and I'm currently looking for co-production financing.
It's set in Thailand about a mother and son who meet for the first time. The mother is part of a group of women living in a beach resort town, and is rumoured to be a vampire. But like Motel Mist, that is just a small part of the film. The main story is about the relationship between the mother and her son.