Turkey's Tolga Karacelik, whose Ivy was at Sundance at Toronto last year, among those to bring new features to CineLink.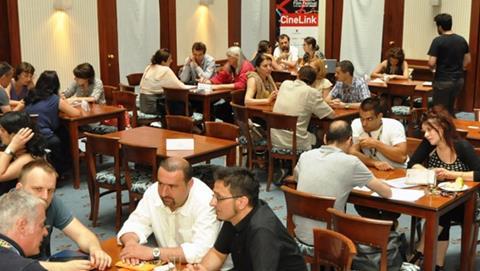 The Sarajevo Film Festival (Aug 12-20) has revealed the first six projects selected for its CineLink Co-Production Market, which is set to run Aug 18-20.
The titles include Butterflies, from Turkish director Tolga Karacelik, whose psychological drama Ivy world premiered at Sundance 2015 and went on to play at Istanbul, Sydney, Karlovy Vary and Toronto among others.
Butterflies is "a black comedy about death and two brothers reuniting", which won The Binger award at Istanbul's Meetings on the Bridge Film Development Workshop and was selected for Sundance Lab.
Ela And Hilmi is from another Turkish director, Ziya Demirel, whose 2015 short Tuesday (Sali) was selected by Cannes for its shorts competition and secured a special mention at Sarajevo.
The Heroes Were Dancing is the next project from Serbian filmmaker Nikola Ljuca, whose mystery drama Humidity debuted at this year's Berlinale Forum and won a hat-trick of prizes at Belgrade's FEST International Film Festival last month including best film, director and actor for Milos Timotijevic.
Looking For Venera marks the feature directorial debut of Kosovo's Norika Sefa and centres on a boy and two teenage girls in a small town.
Memories From The Future also marks the feature directorial debut of Greece's Konstantinos Antonopoulos.
Otto The Barbarian comes from former Berlinale Talents alumni Ruxandra Ghitescu, a Romanian director whose short Family Issues (Probleme de familie) played at Dublin and in competition at Cottbus among others.
For her first feature, Ghitescu – who was a script supervisor on Terry Gilliam's The Zero Theorem – centres on a teenage boy who has to deal with his guilt around the suicide of his girlfriend.
After targeting projects from first and second time filmmakers, the second call for entries is aimed at projects from established authors in the advanced stages of development and financing, and is open until April 26.
CineLink offers awards funds totalling more than €160,000 in cash and services. Previous titles to go through the market include Laszlo Nemes' Cannes and Oscar-winner Son Of Saul.
CineLink Co-Production Market 2016
Butterflies (Turkey)
Director: Tolga Karacelik
Producer: Cem Doruk
Production company: Karacelik Films
Ela And Hilmi (Turkey)
Director: Ziya Demirel
Producer: Anna Maria Aslanoglu
Production company: Istos Film
The Heroes Were Dancing (Serbia)
Director: Nikola Ljuca
Producer: Nataša Damnjanović
Production company: Dart Film
Looking For Venera (Kosovo)
Director: Norika Sefa
Porducer: Belina Jano
Production company: Animated Society
Memories From The Future (Greece)
Director: Konstantinos Antonopoulos
Producer: Fani Skartouli
Production company: KIPOI (the Gardens)
Otto The Barbarian (Romania)
Director: Ruxandra Ghitescu
Producer: Iuliana Tarnovetchi
Production company: AlienFilm