HBO's Game of Thrones may have been one of the early adopters, but it's not taken long for the rest of the film and TV world to catch on to the benefits of shooting in Northern Ireland.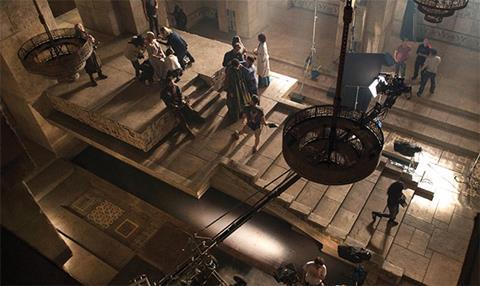 Northern Ireland is one of the most attractive places to shoot in Europe right now. It boasts stunning, diverse and easily accessible locations, world-class crews and excellent facilities, as well as the UK tax credit and generous production funding from Northern Ireland Screen.
Productions that shoot entirely on the island of Ireland can also access relief on 100% of their budgets via the UK and Irish tax reliefs. Recent features include The Lost City Of Z, sci-fi blockbuster Morgan produced by Ridley Scott, Universal's Dracula Untold (which shot at iconic locations including the Giant's Causeway and Mount Stewart) and Ben Wheatley's High-Rise.
On the TV side, ITV's The Frankenstein Chronicles, BBC Drama's The Fall and Line Of Duty, and Game Of Thrones have all been in town recently. Last year Mark Huffam produced Channel 4's Grand National horse racing commercial, which shot at the Ulster Folk and Transport Museum.
"We keep coming back because of the support, talent and passion we've discovered in this wonderful region," says Jay Roewe, HBO's senior vice-president, West Coast production.
The Lowdown
Financial incentives
As well as being able to access the UK's film, high-end TV and animation tax breaks, productions can also apply for funding from Northern Ireland Screen up to a ceiling of 25% of the overall budget. Production funding is available for films, television drama, animation, factual and entertainment and digital content. While Northern Ireland Screen technically offers up to $1.22m (£800,000) for a large production, the amount can be negotiated, especially if the production is likely to be of great economic benefit to the region (Game Of Thrones and Dracula Untold, for example, received considerably more). Northern Ireland Screen does not take an equity stake and the money comes in the form of a recoupable loan. A production must have 65% of its funding already in place. Further information www. northernirelandscreen.co.uk
Infrastructure
Northern Ireland can comfortably host two large productions, as well as a number of smaller productions, at any given time. Belfast's Titanic Studios has six sound stages. Dracula Untold and The Lost City Of Z shot in the city's old Britvic building. Half an hour outside the city is The Linen Mill Film & Television Studios, comprising 77,000 square feet of build space. The region boasts world-class crews thanks to the continued presence of Game Of Thrones and a big push on training from Northern Ireland Screen.
Locations
Castles, stately homes, villages, mountains, forests, beaches and the cityscape of Belfast, which combines both Victorian and and 21st-century architecture.
Where to stay
The Fitzwilliam and The Merchant are popular Belfast hotels. The city also has a great range of apartment options, including in the Titanic Quarter, meaning cast/crew can stumble out of bed and into the studio in five minutes. Rates are cheaper than London.
Where's the craic?
Belfast boasts two Michelin-star restaurants — Ox and Eipic — as well as an abundance of pubs offering good old-fashioned Irish entertainment (and drinking), including Kelly's Cellars. Robert Pattinson and The Lost City Of Z co-star Charlie Hunnam were among the A-listers at Van Morrison's the A-listers at Van Morrison's birthday gig recently. On days off, cast and crew often make the trip to Harry's Shack on the beach at Portstewart, which is famous for its seafood, while studio executives head for Portstewart Golf Club.
Size matters
A production can access almost all of the key locations in the region within an hour if it bases itself in Belfast. The international airport is 20 minutes from the city centre and taxis are cheap and abundant.
Piers Tempest, producer, The Journey
"The combination of the crew base, variety of landscape, relative cost compared to the rest of the UK and a proactive support structure through Northern Ireland Screen makes Northern Ireland a great place to film."
Would they return?
Yes – this is Tempest's fourth feature production in Belfast.
What could be improved?
The territory needs more studio space
First person to call
Andrew Reid, head of production, Northern Ireland Screen andrew@northernirelandscreen.co.uk