Benedict Cumberbatch drama leads the pack with six nominations.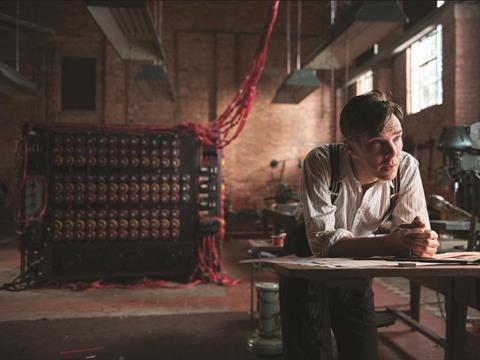 The Imitation Game, the codebreaking war drama starring Benedict Cumberbatch, leads this year's Empire Awards with six nominations.
The winners of the awards are chosen by readers of the UK film magazine, with blockbusters ranked alongside indie hits. The Best Film category includes Boyhood, Dawn of the Planet of the Apes, The Hobbit: The Battle of the Five Armies, The Imitation Game and Interstellar.
James Nesbitt will host this year's ceremony in London on March 29.
THE JAMESON EMPIRE AWARDS 2015 NOMINATIONS IN FULL
Best Newcomer — Male
Ellar Coltrane (Boyhood)
Taron Egerton (Kingsman: The Secret Service)
Daniel Huttlestone (Into The Woods)
Jack O'Connell (Unbroken)
Dan Stevens (The Guest)
Best Newcomer — Female
Sophie Cookson (Kingsman: The Secret Service)
Carrie Coon (Gone Girl)
Essie Davis (The Babadook)
Karen Gillan (Guardians Of The Galaxy/Oculus)
Gugu Mbatha-Raw (Belle)
Best Sci-Fi/Fantasy presented by MediCinema
Dawn Of The Planet Of The Apes
Guardians Of The Galaxy
The Hobbit: The Battle Of The Five Armies
Interstellar
X-Men: Days Of Future Past
Best Horror
Annabelle
The Babadook
The Guest
Oculus
Under The Skin
Best Comedy presented by Absolute Radio
22 Jump Street
The Grand Budapest Hotel
The Inbetweeners 2
The LEGO® Movie
Paddington
Best Thriller presented by Corinthia Hotel London
Captain America: The Winter Soldier
Gone Girl
The Imitation Game
Kingsman: The Secret Service
Locke
Best British Film
The Imitation Game
Kingsman: The Secret Service
Paddington
The Theory Of Everything
Under The Skin
Jameson Best Actor
Richard Armitage (The Hobbit: The Battle Of The Five Armies)
Bradley Cooper (American Sniper)
Benedict Cumberbatch (The Imitation Game)
Eddie Redmayne (The Theory Of Everything)
Andy Serkis (Dawn Of The Planet Of The Apes)
Best Actress
Emily Blunt (Edge Of Tomorrow)
Felicity Jones (The Theory Of Everything)
Keira Knightley (The Imitation Game)
Rosamund Pike (Gone Girl)
Alicia Vikander (Ex Machina)
Best Director
Peter Jackson (The Hobbit: The Battle Of The Five Armies)
Richard Linklater (Boyhood)
Christopher Nolan (Interstellar)
Matt Reeves (Dawn Of The Planet Of The Apes)
Morten Tyldum (The Imitation Game)
Best Film
Boyhood
Dawn Of The Planet Of The Apes
The Hobbit: The Battle Of The Five Armies
The Imitation Game
Interstellar