Warner Bros' Ben Affleck thriller stormed to the top of the charts on a confirmed $24.7m as Universal's comedy tour film Kevin Hart: What Now? debuted at number three on $11.8m.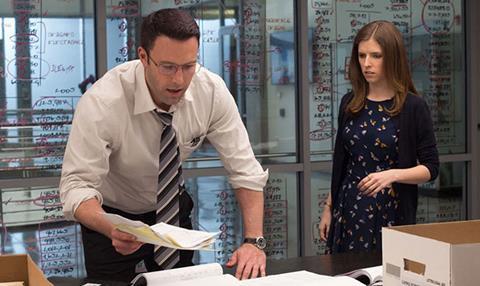 Last weekend's champion The Girl On The Train from Universal slipped one place and 50.1% on $12.2m for a $46.8m runing total.
Meanwhile Fox Searchlight's contentious The Birth Of A Nation appeared to be on its way out of the top ten as it fell 60.8% and four places to number ten in its second weekend on $2.7m from 2,105 venues for a $12.3m running total.
Independent action property Max Steel arrived through Open Road at number 11 on $2.2m from 2,034 theatres.
Fox's children's fantasy Miss Peregrine's Home For Peculiar Children slid 40.8% and two places to number four in its third session on $8.9m for $65.9m.
Lionsgate's Mark Wahlberg action release Deepwater Horizon ranks fifth on $49.4m after three, while Sony/MGM's The Magnificent Seven sits at number seven on $84.9m after four.
Queen Of Katwe slipped 46.1% and three places to number 13 in its fourth weekend on $877k for $7m after via Buena Vista reduced the venue count by 197 to 1,062.
Kelly Reichardt's drama Certain Women, winner of the BFI London Film Festival's best film in official competition award on Saturday night, debuted at number 42 via IFC on $61,000 from five venues.
Roadside Attractions opened the drama Priceless at number 15 on $707k from 303, and STX debuted the US-Mexico border-crossing thriller Desierto starring Gael Garcia Bernal and Jeffrey Dean Morgan at number 17 on $514 from 73.
Vitagraph debuted Brazilian drama Aquarius starring awards contender Sonia Braga at number 52 on $29k from three venues.
Miss Hokusai opened at number 55 through GKIDS on $24.5k from two sites, while Coming Through The Rye starring Chris Cooper opened at number 78 through Eammon Films on $4,000 from a single venue
The top 12 combined for $88.9m and slipped 7.1% against last weekend and dropped 20.4% compared to the comparable session in 2015, when Sony's Goosebumps arrived at number one on $23.6m.
This week's wide releases are: Paramount's Jack Reacher: Never Go Back with Tom Cruise; Universal's horror Ouija: Origin Of Evil; Lionsgate's comedy Boo! A Madea Halloween; and Fox's comedy Keeping Up With The Joneses;

Confirmed top 10 North America October 14-16, 2016
Film (Dist) / Conf wkd gross / Conf total to date
1 (-) The Accountant (Warner Bros) Warner Bros Pictures International $24.7m –
2 (1) The Girl On The Train (Universal) Mr Smith Entertainment $12.2m $46.8m
3 (-) Kevin Hart: What Now? (Universal) Universal Pictures International $11.8m –
4 (2) Miss Peregrine's Home For Peculiar Children (Fox) Fox International $8.9m $65.9m
5 (3) Deepwater Horizon (Lionsgate) Lionsgate International $6.4m $49.4m
6 (5) Storks (Warner Bros) Warner Bros Pictures Animation $5.7m $59.2m
7 (4) The Magnificent Seven (Columbia) Sony Pictures Releasing International/ MGM $5.2m $84.9m
8 (7) Middle School: The Worst Years Of My Life (CBS Films/Lionsgate) CBS Films $4.3m $13.9m
9 (8) Sully (Warner Bros) Warner Bros Pictures International $2.9m $118.3m
10 (6) The Birth Of A Nation (Fox Searchlight) Fox International $2.7m $12.3m