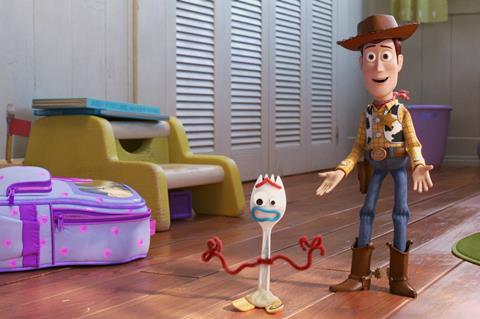 Pixar's Toy Story 4 has become the fifth Disney release of 2019 to cross $1bn at the global box office, setting a new record by a studio in a calendar year of unprecedented dominance.
Disney executives said on Thursday (15) the animation and Oscar contender had reached an estimated $1.0017bn on Aug. 14, marking the fourth time a Pixar release has reached the milestone after Incredibles 2, Finding Dory, and Toy Story 3.
Disney beat its own record of four billion-dollar hits in a single year, established in 2016. The number could rise to seven by the time Frozen II and Star Wars: The Rise Of Skywalker open in November and December. Studio brass are targeting $10bn the end of the year.
Toy Story 4 currently ranks as the eighth highest-grossing animated film at the global box office. It has amassed $579.9m internationally with debuts still to come in Germany (this week) and across Scandinavia. The family release is the second biggest animation in the UK on $75m, and the biggest industry release in terms of admissions in Mexico, where it stands at $72m.
Japan, where filmgoers are celebrating the Obon holiday, has generated $76.5m. Turning to the other lead markets, Toy Story 4 stands at $32.4m in Brazil, $29.1m in China, $28.6m in both Argentina and Australia, $27.8m in France, $24.7m in South Korea, $23.4m in Spain, $15.2m in Chile, $14m in Colombia, $12.2m in Panama, and $11.4m in Hong Kong.
The Pixar smash ranks as the fifth highest animated release in North America on $421.8m. Tom Hanks, Tim Allen and Annie Potts reprise their roles in the voice cast, alongside Tony Hale, Jordan Peele, Keanu Reeves, Joan Cusack, Bonnie Hunt, and Keegan-Michael Key.
The other four Disney releases to cross $1bn at the worldwide box office this year are Avengers: Endgame, Captain Marvel, The Lion King, and Aladdin.