EXCLUSIVE: Cast rounds on John Cameron Mitchell's "punks and aliens" feature adapted from a Neil Gaiman story; HanWay boards sales.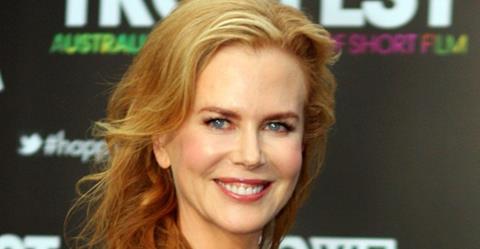 Nicole Kidman is in advanced talks to join John Cameron Mitchell's anticipated comedy-romance How to Talk to Girls at Parties, which is readying for an autumn shoot in the UK.
Golden Globe-winner Ruth Wilson (The Affair) and Matt Lucas (Alice in Wonderland) are also set to join the previously announced Elle Fanning (Maleficent) on the buzzy package, which has been newly boarded by production outfit See-Saw and sales firm HanWay, which will launch the project in Cannes this week.
Hedwig and the Angry Inch director Mitchell and Philippa Goslett (Little Ashes) have written the screenplay, which is adapted from Neil Gaiman's short story of the same name in which an alien (Fanning) touring the galaxy breaks away from her group and meets two young inhabitants of the most dangerous place in the universe: the London suburb of Croydon. ​
Howard Gertler (How to Survive a Plague) of Little Punk will produce alongside Iain Canning and Emile Sherman of See-Saw (The King's Speech), whose anticipated drama Macbeth plays in competition at Cannes. Michael J Werner and Winnie Lau will executive produce.
The Sandman creator Gaiman has been closely involved in the film's development to date.
CAA reps US while HanWay will consult with Fortissimo - which previously handled the film - on Asian territories.
The project is due to reunite Kidman with Mitchell who directed her in Rabbit Hole, for which the actress was Oscar-nominated.
Kidman's casting will also reunite her with See-Saw after they collaborated on Saroo Brierley biopic Lion, which wrapped last weekend.
Romeo and Juliet with punks and aliens
"Nicole responded very quickly and enthusiastically to the script when John sent it to her," producer Gertler told Screen.
"This is a story that appeals to teens and adults, something John and Neil Gaiman's work also achieves, and that is why it's such a good fit.
"John compares it to Romeo and Juliet, except instead of Montagues and Capulets we have punks and aliens."
"I've always been a big fan of John and Howards work," Canning told Screen. "I was the first to sign up when I heard there was a chance to work with John in the UK.
"This is a film that will appeal to John's core fans and to a wider audience."
HanWay's Thorsten Schumacher added: "We've always been fans of the force of nature and entertaining genius that is John Cameron Mitchell - to have him adapt one of the most iconic short stories from the incredible mind of Neil Gaiman is a pure delight.
"The film will attract a worldwide audience of teens and adults alike."
The production is in talks with some big-name musicians to score the film while some of the cast are also due to lend their voices to songs.
John Cameron Mitchell is repped by CAA and Jackson Group Entertainment; Neil Gaiman is repped by CAA and Writers House; Nicole Kidman is repped by CAA and Shanahan Management; Elle Fanning is repped by WME and Echo Lake Management; Matt Lucas is repped by Troika and CAA; Ruth Wilson is repped by Troika, CAA and Untitled.