Roskino revealed the project, amongst others, at a Marche presentation today.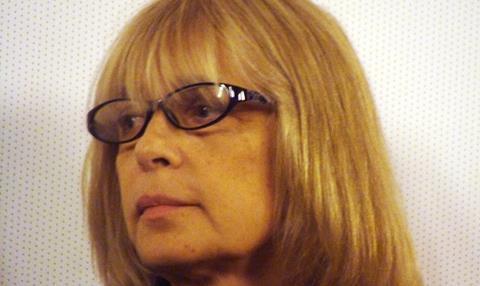 A host of new Russian projects in all kinds of different genres were announced in Cannes at a special presentation organised by Roskino.
Vera Glagoleva [pictured], director of Ralph Fiennes-starrer, Two Women, introduced her new project A Friend From Afar. Produced by Natalia Ivanova, this is the story of Russian writer Ivan Turgenev's fatal affair with a French opera star seen through the eyes of his illegitimate daughter.
Audiences were also given their first look at The Other Cheek from producers Anastasia Perova, Vincent Cespedes, and Julia Lukashuk. The film focuses on a former figure-skater turned sports reporter plunged into the heavy-hitting world of boxing.
Producer Ilya Stewart presented Blood On The Dancefloor, a futuristic Hunger Games-style project set in a Europe recovering from a global war which has lapsed into a militant, misogynist Puritanism. Stewart confirmed the casting of three young Russian stars in leading roles, Anna Chipovskaya, Svetlana Ustinova and Svetlana Khodchenkova.
Roman Borisevich and Vasily Rovensky introduced their fantasy movie, Cat & Beaver. Double Trouble in which the furry protagonists tussle with mercenaries from outer-space.
Another filmmaking team, Lyubov Lvova and Sergey Taramaev, are to direct Buy Me, a cautionary tale in which Taisia Vilkova stars as a young woman yearning for adventure, who enters a world in which affections are sold for money and a life of luxury.
Also being pitched was musical fantasy The Whistling Art Factory, produced by Anastasia Razlogova and Andjei Petras, and following a lonely boy struggling through a fairy-tale 1960s world.
Meanwhile, Elena Glikman and Victoria Lupik presented Ella Manzheeva's emotional drama Tachal, which was selected for the Berlinale Residency programme and financially backed by Roskino, exploring the lingering physical connection between those who have died and the people they leave behind.
There was also further news of The Draft, the ambitious new ski-drama from Battle For Sevastopol director Sergey Mokritsky.