Dominic Cooper stars as SBS agent John Stratton in the new action thriller from director Simon West.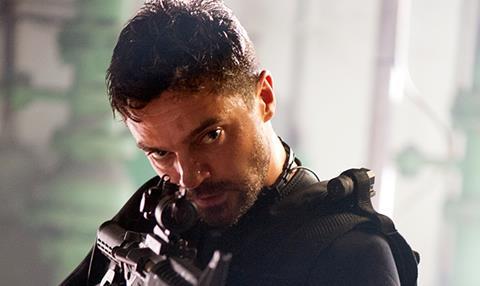 The first image has been released from Stratton, the new thriller from GFM Films about Special Boat Service (SBS) agent John Stratton.
The film, which is based on a series of books by author and former SBS agent Duncan Falconer, follows Stratton as he teams up with British intelligence service Mi6 to foil a terrorist plot.
Dominic Cooper (Captain America: The First Avenger) plays the titular Stratton alongside a cast that includes Tom Felton (the Harry Potter franchise), Gemma Chan (Exam), Austin Stowell (Whiplash), Tyler Hoechlin (Road To Perdition), Thomas Kretschmann (Avengers: Age Of Ultron), Connie Nielsen (Gladiator) and Sir Derek Jacobi (The King's Speech).
Simon West (The Expendables 2) is directing while Lawrence Elman and Ileen Maisel are producing for Amber Entertainment. Matthew Jenkins (The Dark Knight) is also on board as a producer.
Filming began in Brindisi, Italy on July 15 before moving to Rome and then London on August 7. The shoot is set to wrap on September 11 and a release date is penned for Q2 2016.
Stratton is a GFM Films production through Stratton Film Productions Ltd. Finance comes from Swiss Corporation Halston Ltd, UK based White & Company Chartered Accountants and Ober Private Clients Limited. GFM is also handling sales.
Henry Cavill was previously attached to play the film's lead.