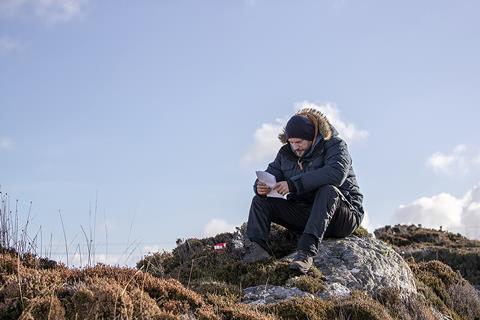 It should have been a globetrotting year for UK director Ben Sharrock.
His feature Limbo was selected for the Cannes 2020 label but it only screened for the first time to an online audience in the Discovery section at Toronto in September 2020. Sharrock and his partner Irune Gurtubai, who produced Limbo with Angus Lamont, saw the film with an audience for the first time at its European premiere in San Sebastian and it has gone on to become a firm favourite on the mostly virtual international festival circuit.
Limbo has now been nominated for outstanding British film and outstanding British debut at the Bafta Film Awards.
With visual influences including the films of Elia Suleiman and Eran Kolirin's The Band's Visit (2007), Limbo is the story of a young musician and asylum seeker living on a fictional Scottish island and the tentative friendships he makes while waiting to find out whether he has been granted official refugee status. Amir El-Masry stars with Vikash Bhai, Ola Orebiyi, Kwabena Ansah and Sidse Babett Knudsen.
"I felt the subject matter attached itself to me," Sharrock says of the origins of the film. "My undergraduate degree had been in Arabic and politics [at the University of Edinburgh] and I had lived in Syria for a bit. I made friends there. I joined the rugby team. I worked a little in the theatre. This was a year before the civil war started. I wrote my dissertation on Arab and Muslim representations in American film and TV. And at film school [Screen Academy Scotland] I wrote a short film set in the refugee camps in Algeria."
Limbo qualifies for the outstanding debut Bafta because Sharrock's only previous feature Pikadero — which won the prestigious Michael Powell prize for best British film at Edinburgh International Film Festival in 2016 — was not theatrically released in the UK. On the back of Pikadero, Film4, the BFI and Screen Scotland came together to back Limbo. Protagonist Pictures has sales rights, and Mubi bought for the UK and Ireland just before its Toronto premiere, with a summer 2021 theatrical release now planned. Focus Features has the rest of the world, with a late-April bow on the cards.
"I tried to distil [the issues of the story] down to the human context and it being about someone who was dealing with grief over the loss of what they regard as their former identity," explains Sharrock.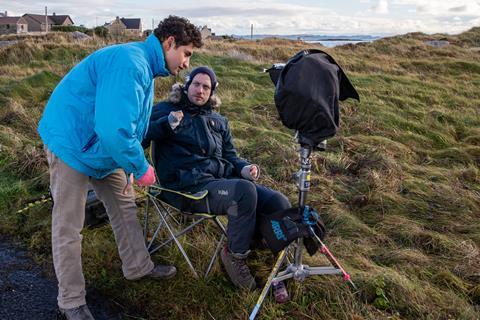 He found the UK-based Egyptian actor El-Masry online. "The face is very important to me in the way that I work and the way that I imagine things," says Sharrock. "We needed someone who we could hold the camera on for one-and-a-half to two hours. Initially I had liked the idea of casting someone Syrian and we tried to do that but we couldn't find anyone who was quite right. And then Amir came in and he was brilliant."
For a filmmaker whose ambition was to walk the red carpet at Cannes and share the joy of a Bafta nomination with his cast and crew at the Royal Albert Hall, experiencing the past year from his home office in, first, San Sebastian — where he and Gurtubai were staying during most of 2020 — and, now, Edinburgh where they returned after Christmas has been a masterclass in finding the positives in a challenging year. "It's an odd balance of trying to think about what we have achieved and what we gain from all of this recognition, how special this is and trying to push the other stuff to the side."
Making waves
Sharrock has signed with CAA in the US, although he has yet to meet his new agent in person, let alone done the water-bottle tour of Los Angeles, but says the meeting requests have been rolling in. He is now able to appreciate the lack of travel has allowed more time to work on new projects, but admits the creative inspiration has come in waves.
"Even though it's difficult and depressing sometimes being in the same room all the time, it has given me the space and time to interrogate different ideas and to try things out," he says. "I'm at a point where I've got a small handful of projects that I'm excited about and committed to."
He will not be drawn yet on what his next project might be but says it will "definitely be a continuation of my interest in the social-political landscape of the world and an attempt to distil those big topics into a human context and use elements of absurdist humour".