With its former chiefs reinstated and a host of new initiatives, Busan International Film Festival is leaving its troubled past behind.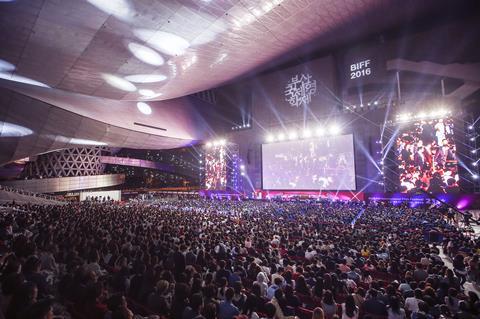 After years of political strife, Busan International Film Festival (BIFF) is finally getting back on track. Previously dismissed BIFF director Lee Yong-kwan was appointed as festival chairman in January this year, while former deputy director and Asian Film Market head Jay Jeon was named as festival director. The local film industry's boycott of the festival has now been completely rescinded.
BIFF, which takes place from October 4-13, is screening 323 films from 79 countries, including 140 world and international premieres.
Targeted by Korea's now deposed Park Geun-hye administration, the festival suffered government budget cuts after the 2014 screening of The Truth Shall Not Sink With Sewol, a documentary critical of Park's handling of the ferry disaster that resulted in hundreds of deaths. In addition, Lee and Jeon were dismissed in 2016, while founding festival director Kim Dong-ho returned as chairman and Lee's former co-director Kang Soo-youn continued in a solo directorship.
Taking sides
The local film industry was divided on these moves, with major organisations such as the Directors Guild of Korea and the Federation of Korea Movie Workers' Union boycotting the festival in support of freedom of expression. Lee says: "Kim Dong-ho, Kang Soo-youn and the late Kim Ji-seok were for freedom of expression, but they put a primary focus on carrying on with the festival. I was of the opinion we needed stronger measures to maintain independence and freedom from political influence."
Kim and Kang then surprised the industry by announcing their joint resignation on August 8, 2017. It was the day after BIFF executive staff published an open letter criticising them for a breakdown in communications, and for their lax attitude towards the government that had thrown the festival into turmoil.
Jeon says: "It's as if for three and a half years, the films disappeared and only politics and conflict remained. It's urgent for us to regain an atmosphere of celebrating films, to get back the participants from outside of Busan who would come even for a couple of days to be a part of it."
Both Lee and Jeon emphasise the need to recover harmony and stability this year, and to show the festival's appreciation to those who gave their support locally and internationally. "Whatever the path we were each espousing, we were all trying to get to the same goal. It's time for us to put the strife behind us and think about the future," says Lee.
As for bringing back Kim and Kang to attend the festival this year, Lee says they are welcome and that he has made overtures to Kim but at the time of writing had been unable to contact Kang.
Befitting the changing times, the festival will open with the world premiere of Beautiful Days, a drama starring Lee Na-young as a North Korean refugee whose trials and sacrifices come to light when the son she had with a Korean-Chinese man comes to find her in South Korea. The film is directed by Jero Yun, whose Mrs B, A North Korean Woman won best documentary awards at the Moscow and Zurich film festivals.
BIFF will close with the world premiere of martial arts virtuoso Yuen Woo-ping's Master Z: Ip Man Legacy, featuring Zhang Jin, Michelle Yeoh, Tony Jaa and Dave Bautista.
All 10 New Currents competition films will be world premieres, including Bekzat Pirmatov's Kyrgystani sanatorium drama Aurora and Cui Si Wei's Chinese crime drama Savage, starring Chang Chen.
Launched last year to commemorate former deputy director Kim Ji-seok, who died in May 2017 while attending Cannes Film Festival, the Kim Jiseok Award this year has nine candidates making their world or international premieres in BIFF's 'A Window on Asian Cinema' section. These include Afghanistan-Iran co-production Rona, Azim's Mother, directed by Jamshid Mahmoudi, and Asoka Handagama's Sri Lankan mystery Asandhimitta.
Although the number of Gala Presentations this year is down to three from the usual four of previous years, the section will showcase the world premiere of Stanley Kwan's Hong Kong-China drama First Night Nerves, with the director and stars Sammi Cheng, Gigi Leung and Bai Baihe due to attend.
Korean-Chinese director Zhang Lu will also present the world premiere of his Ode To The Goose, starring Moon So-ri and Park Hae-il, and Japanese actor/director Tsukamoto Shinya will present samurai film Killing, which recently screened in Venice and Toronto.
The festival is also launching a 'Busan Classics' section, which includes a retrospective on Korean director Lee Jang-ho and a special programme of 10 classics celebrating the centennial anniversary of cinema from the Philippines.
A festival with a global focus
Although BIFF's primary role is to discover and promote Asian cinema, it also aims to bring the rest of the world's cinema to Asia. This year, a record number of 74 European films will screen at BIFF, while European Film Promotion (EFP) is bringing a delegation of 32 European filmmakers and actors.
In addition, eight European producers will join EFP's new networking co-operation with European Audiovisual Entrepreneurs and BIFF's Asian Project Market. "Busan is a major gateway to the Asian market," says EFP managing director Sonja Heinen. BIFF selections from outside the region include Claire Denis' High Life, Nuri Bilge Ceylan's The Wild Pear Tree, Michael Moore's Fahrenheit 11/9 and Alfonso Cuaron's Roma.
The festival is also bringing back a former venue, BIFF Square in Nampo-dong (about a 45-minute drive from Busan Cinema Center), where it started out
but eventually grew out of. Local organisations such as the Busan Museum of Movies, The Corner Theater and the Busan Community Media Center will run a variety of programmes in which audiences can participate.
"Think of it like Edinburgh Fringe — audiovisual fringe events where people can experience things like making
their own films on their mobile phones," says Jeon.
With three programmers' positions left unfilled until late April, there is a sense the festival is still settling in, and Jeon says a reshuffle is being planned after the end of this edition, with the possible hiring of foreign selection committee members. This would be a new move for BIFF, which still receives occasional criticism from Busan locals for not hiring enough natives from the city that funds the larger part of the festival's budget.
BIFF has appointed foreign selection consultants including Teresa Cavina — who has experience as artistic director of the Rome and Locarno film festivals — and Intishal Al Timimi, director of El Gouna Film Festival, as "test cases" for this year.
Jeon says he would also like to bring in experienced Korean industry professionals "from major companies" to work at BIFF's Asian Film Market. Options include potentially changing it from next year.
Lee also says BIFF, the Korean Film Council (KOFIC) and the Korea Creative Content Agency (KOCCA) are forming a task force team this year, headed by veteran producer Tcha Sung-jai, to look into improving the Asian Film Market by turning it into an event that encompasses TV content, as Hong Kong Filmart and Japan's TIFFCOM both do.
"Korean dramas have become hugely popular around the world," says Lee. "We have a unique property with the Korean Wave and, if our three organisations can work together, it could be very interesting."
Asian film market rundown
The Asian Film Market will run from October 6-9 with sales booths and market screenings at the BEXCO exhibition centre, and market screenings at Lotte Cinema Centum City.
"After the turmoil the festival has gone through, we are starting anew," says Asian Film Market general manager Daniel Kim. "We've seen a rise in sponsorship and we're moving into four halls in BEXCO instead of three."
Kim adds that the market's entertainment intellectual property (E-IP) pitching events have increased from 20 projects last year to 29 from across Asia this year, and include new participants such as Korea Creative Content Agency (KOCCA) and Korea Manhwa Contents Agency (KOMACON). Further companies attending E-IP include Netflix, YouTube Premium, Sony Entertainment, Japanese publishers Kobunsha and Jitsugyo No Nihon Sha, and Korean broadcasters JTBC and SBS.
Organisers report the Asian Project Market saw a 30% rise in submissions, compared with last year, from the 401 submitted. These include Jia Zhangke's Without End, Without Doubt, Locarno Golden Leopard winner Yeo Siew Hua's Stranger Eyes and last year's New Currents award winner Kim Uiseok's The Martyrdom.
By mid-September, 1,214 professionals from 656 companies had registered for the market with further on-site registration expected. Of these, 172 companies from 23 countries are set to open 73 booths, with the number of booths up 12% year-on-year, according to organisers.
New exhibitors include Hong Kong's Golden Scene and Mei Ah Entertainment, The Open Reel from Italy and Film Constellation from the UK.
Umbrella stands will be opened by the Korean Film Council (KOFIC), Taiwan, the Philippines, Cambodia and European Film Promotion (EFP) with UniFrance.
Market screenings have been booked by 36 companies from 11 countries for a total of 67 slots, including 36 premieres. Sudabeh Mortezai's recent Venice winner Joy, and the Asian Cinema Fund (ACF) post-production support recipients House Of Hummingbird and Maggie are among the 15 BIFF selections also screening in the market.