Eric Steel's Kiss The Water, which plays at the EIFF this weekend, is much more than just a documentary about fly fishing, as Sarah Cooper discovers.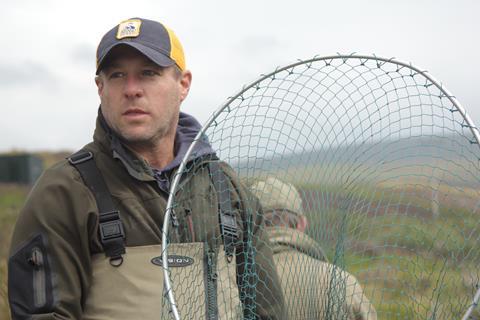 When Eric Steel read the New York Times obituary of Megan Boyd, an eccentric Scottish lady who spent her life tying flies for salmon fishermen, he had never been to Scotland, never directed a film and was not remotely interested in fishing.
12 years later and Steel is at the Edinburgh International Film Festival for the European premiere of his documentary about Boyd - Kiss The Water - a beautiful little gem of a film, funded by BBC Scotland and Creative Scotland, which plays in the festival's New Realities strand.
So what compelled the New Yorker to make a film about such an unlikely subject matter?
"I think it's the not knowing why I clipped out that obituary that precisely makes it so compelling, says Steel, who in the meantime went on to make controversial documentary The Bridge about suicide jumpers from the Golden Gate Bridge in San Francisco.
"But I just knew there was something about the story that seduced me. And the subtext really has nothing to do with fishing at all."
The documentary combines talking heads with dream like animation sequences (and only one piece of video footage of Boyd, right at the end of the film) to tell the almost fairytale like story of Boyd, who dressed like a man and lived alone in a remote cottage with no electricity, but whose flies became legendary amongst fisherman all over the world – even attracting the custom of Prince Charles (who declined to be interviewed for the film).
"I hope he will come and see the movie, I think he would find it interesting," says Steel, who, in hindsight thinks the documentary is probably all the better for not having the Prince in it.
"We deliberately didn't put people's names underneath them, because we wanted it to be like a communal story telling effort. If Prince Charles had been in there, it would have thrown it off, unless he was prepared to sit in front of a black curtain in a rickety chair like the others."
The Scottish landscape plays a big part in the documentary, with Steel making several trips up to Megan's home in the highlands to make sure he captured every season.
"I fell in love with Scotland from the very start. At one point when I saw Megan's house, I wondered if they would sell it to me. But I realised that that was a romantic idea, and I'm happy where I am," laughs Steel, who was delighted by the response to the doc at the Tribeca Film Festival, where it world premiered.
"I wondered if anyone would find this movie as we had no marketing plan. But the first screening sold out, and the last two screenings, a lot of fishermen came and brought their wives. They said it was the first time the wives understood why they loved fishing."
"Sometimes it's those unlikely stories that turn out to be the ones that stay with you," adds Steel, who may now be a film-maker and an expert on Scotland, but is still no fisherman.
"I'm more in Megan's camp {Boyd herself never fished]. I tried it once, on a very windy day, I don't think I was particularly coordinated, but I like the idea of fishing and the walking up the river. You have to learn to read the river. I read books, some people read rivers. That makes perfect sense to me."