Irreverent Dutch comedy subtitled 'A Film in Five Parts'.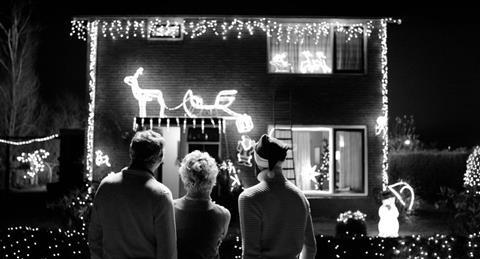 Daan Bakker's feature debut is spilt into five different stories each concerned with a different beleaguered male. Described as "bracingly perverse" by our critic, we spoke to the director before the film's screening at the International Film Festival Rotterdam.
How did you get into filmmaking?
I've wanted to become a filmmaker since I was 16 but I never made one until I was 25. I think I had this vision of being a filmmaker and I didn't want reality to ruin it. In the meantime, I studied theatre, worked as a mailman and loafed around. Eventually I managed to make a short film by convincing myself it was just some research for a film I would make at some point in the future. The result was my first snippet of film, it lasted little over 2 minutes and contained 3 shots in total. To my surprise it got me admitted to film school, which was a blessing for me, because there I was continuously challenged. I couldn't hide anymore. That was liberating.
What was your inspiration for making Quality Time?
The inspiration was mostly a feeling I had at that time, which was quite dark. I had taken a break from directing for some years because I felt my ideas were lacking conviction. In the meantime, I worked as an advisor on several projects. Then one day, when I was visiting the Rotterdam festival of 2014, I felt a surge of energy. Whatever it was that was bothering me had to come out. The next day I wrote a storyline, which became my starting point for the film.
Was this project developed through any labs (for example Torino Film Lab)?
No labs, but it was made as part of the 'Oversteek' project by the Netherlands Film fund, which literally means 'crossing'. It is a program that gives directors a chance to make their first feature film. It involves a selection process, so I've been very fortunate that my project was chosen.
What was the biggest challenge when working on the film?
The film consists of five parts that are very different in form but thematically connected. The challenge was to make the different parts add up and make the film a unity. I must admit my palms were a bit sweaty the first time we viewed the film with all the different parts put together. It was clear however that the idea worked, but the process of getting the balance right was delicate and took a lot of fine tuning. I have to give a lot of credit to my editor Sander Vos, who's been incredibly important in this process.
How do you think the film diverts from your previous work?
I have a great love for the short film, which is a genre in itself, in the sense that it has its own codes. I became interested in applying short film language to a feature length story arch coherently. Another thing that was new to me was the manner in which we shot the last chapter, with an almost documentary approach and a lot of improvisation. I loved that.
What are you working on next?
There are four projects I'm working on at the moment. Two feature films which, at least for now, have relatively conventional storylines. There's a long-term project, part fiction, part documentary, which is also an episodic film, but very different from Quality Time. And I'm going to make a road movie with director Peter Hoogendoorn.