Andreas Wiseman talks to director David Mackenzie, actor Jack O'Connell and producer Gillian Berrie about new prison-drama Starred Up, which Independent will be shopping in Cannes.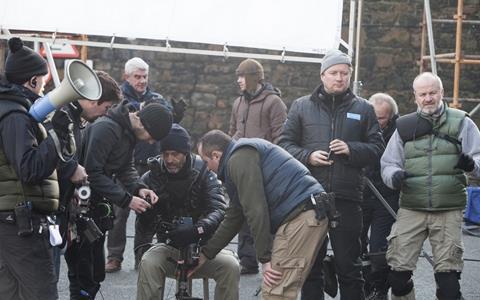 David Mackenzie's latest feature, the prison drama Starred Up, has had a rejuvenating effect on the director.
"I feel I have found my feet again after this film, which is my eighth," he says. "Making films can be a hard process. Along the way I've had doubts about it but this film has made me feel happy to be back in the saddle again."
"It's very strong," says Mackenzie's regular producer Gillian Berrie. "I'd say it's definitely David's best work so far."
Jack O'Connell, Ben Mendelsohn and Rupert Friend star in Sigma's tough prison drama, currently in post-production, about a troubled and explosive teenager [O'Connell] who is transferred to an adult prison where he meets his match in the shape of his father.
The script came from UK writer Jonathan Asser who had worked as a voluntary therapist in Wandsworth prison with some of the country's most violent criminals.
The violence of the material makes for an undeniable change of pace for Hallam Foe and Perfect Sense director Mackenzie.
"I've been between genres or have bent genres before but there's no avoiding that this is a prison movie," he says. "In general, I'm not really interested in genre and hopefully our film stands apart from that but inevitably it will belong to that genre to an extent."
While researching the prison genre, Mackenzie says he most enjoyed watching Robert Bresson's A Man Escaped. But the director admits that he had to curb any arthouse tendencies during filming as the material was so unflinching and raw. The 24-day shoot included 18 days of stunts.
"One of the biggest challenges was the amount of physical violence," acknowledges the director.
"There was more than in any of my previous films. That brings a couple of extra layers of artificiality; through stunts, for example. But the abstraction of action is interesting to me - the accent on physicality rather than the spoken word, the dance of the movements, for example."
Skins and 300: Rise of an Empire star O'Connell was also naturally drawn to the material.
"It's definitely a genre that intrigues me," he says. "There are a lot made; some not for the right reasons, but some hit the nail on the head. Some of my favourite films are prison films. But they have to be morally correct."
"It was an incredibly adrenaline filled experience for everybody," acknowledges Berrie. "Jack even had to go to A&E one day because he hurt his hand. We were terrified he had broken a bone but thankfully he hadn't. That might have been a disaster.
"But David and I are very used to curveballs," continues the Glasgow-based producer. "On the first film that we made, The Last Great Wilderness, we lost all our locations 36 hours before we started shooting. On Hallam Foe six rolls of our rushes from the day Jamie Bell was up to his chest in a frozen loch were destroyed in the bath at the lab. You could say we were very lucky with Starred Up."
Mackenzie approached his lead O'Connell about the role a year before shoot and the two quickly gelled.
"By the time we were on set I realised our styles of working were the same," says O'Connell. "There was no room for ego or preciousness. I don't think I have been on set among such a talented cast or crew before. I didn't take that for granted at any point."
The crew included Hunger production designer Tom McCullagh and Winter's Bone DoP Michael McDonough, who O'Connell described as "pure titanium" in reference to his energy and strength.
The unusual luxuries of shooting in sequence and almost entirely in one location - Belfast's infamous Crumlin Road Gaol [closed since 1996, it is now one of Ireland's top tourist attractions] contributed to what Mackenzie describes as a "pure process" during production.
"There were a lot of things I tried to do to be more in control of the process rather than the process being in control of me, which I've found on a few of my recent films. It was about trying to reclaim some process of my own. Shooting in one location made it a pure process. It made it hard for the art department but it was a good thing to do."
Backing on the £2m-budgeted feature came from Creative Scotland, Quickfire Films, Northern Ireland Screen, Lipsynch Productions and Film Four. Independent handles sales.