As the Czech film festival celebrates its 50th anniversary, artistic director Karel Och talks Michael Rosser through Karlovy Vary's sometimes rocky history, and this year's 'daring' line-up.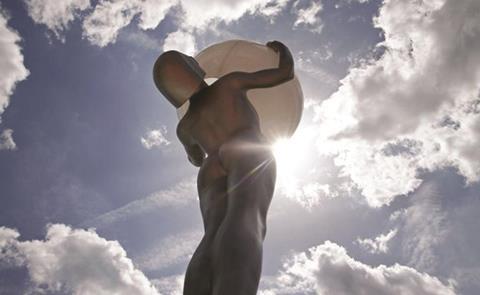 Karlovy Vary International Film Festival (KVIFF, July 3-11) may be celebrating its 50th anniversary, but its approach is more youthful than ever. "We are excited to present the youngest competition line-up in Karlovy Vary's recent history," says Karel Och, KVIFF's artistic director. "The average age of film-makers in the main festival section is 39 years old."
Embracing new talent, there are seven directorial debuts in the competition section of this year's festival, which has long been central and eastern Europe's leading film showcase. "We have been working hard to deliver premieres from young, daring and provocative film-makers," adds Och. "We aim for smart controversy."
Smart and controversial could certainly be applied to competition title Heil, a satirical comedy centred on neo-Nazis from writer-director Dietrich Brüggemann. The 39-year-old German film-maker made Stations Of The Cross, winner of the best screenplay award at the 2014 Berlinale. Karlovy's main competition, featuring seven world premieres and six international premieres, also includes the narrative debuts of two documentary film-makers: psychological thriller The Red Spider by Poland's Marcin Koszalka and period drama Gold Coast from Denmark's Daniel Dencik (see bottom of article for the full line-up).
"We have been working hard to deliver premieres from young, daring and provocative film-makers,"

Karel Och, Karlovy Vary
The jubilee edition will also include a focus on recent Lebanese cinema, a retrospective of late Soviet-Ukrainian director Larisa Shepitko's work and tributes to a pair of US actors whose careers were cut short by their premature deaths: John Cazale and Chris Penn.
In total, the festival will show close to 200 films over nine days — a vastly different tempo from the first edition, when 13 films, including Howard Hawks' Sergeant York and David Lean's Blithe Spirit, screened across two weeks. Taking place in August 1946, that inaugural non-competitive festival was held jointly in Marianske Lazne and its current picturesque spa town setting. The Communist takeover in 1948 forced a change of direction, and brought a programme compiled with an awareness of the strength of the propaganda of national cinema. That same year, the festival settled solely in Karlovy Vary and the competition took place for the first time, as did the honour of the Crystal Globe for best film that is still in place today.
"The element of KVIFF's socialist era that I find most amusing," says Och, who was appointed artistic director in 2010, "is that festival co-founder and long-time director AM Brousil regularly appointed himself president of the jury."
Revival and growth
In 1956, the International Federation of Film Producers Associations (FIAPF) declared Karlovy Vary as a 'category A' festival. But, due to the launch of Moscow's festival and the decision to allow just one A-list festival a year in socialist countries, the two were staged in alternate years from 1959 to 1993.
"Those who decided to go with us in recent years have not regretted it."

Karel Och, Karlovy Vary
The upheaval that shook eastern Europe in 1989 saw KVIFF finally freed from state-applied political pressure, and in 1993 the Ministry of Culture, the town of Karlovy Vary and the Grandhotel Pupp instituted an independent foundation charged with the organisation of future festivals. "At that time," says Och, "Czech actor and current festival president Jiri Bartoska was asked to help revamp what was a dying event, and it is thanks to him that we are still here today."
As in previous years, KVIFF faces fierce competition in the calendar, positioned between Cannes in May and Venice and Toronto in September. "Sometimes we don't get the films we love because July is too early for some producers to have made a decision about their festival premiere," admits Och. "But those who decided to go with us in recent years have not regretted it. Look at Corn Island, the Georgian film that won the Crystal Globe last year and was shortlisted for the best foreign-language film Academy Award."
KVIFF also continues to grow its industry programme with its Works In Progress line-up, which will see 15 projects selected ahead of Industry Days (July 5-8), of which the most "promising" will receive $11,250 (€10,000) in services. New head of industry Slavka Stretavska has also programmed a pitch-and-feedback session for Czech and Slovak film projects in development, and documentary strand Docu Talents From The East. The Europa Distribution Annual Conference will also be held in Karlovy Vary, alongside emerging talent forum TorinoFilmLab Alumni Meeting.
Ahead of the industry side of the festival, KVIFF will throw a party after the opening ceremony, in the area around the Thermal Hotel and city streets, to which every visitor, guest and viewer will be invited.
In Competition:
Antonia dir: Ferdinando Cito Filomarino (Ita-Gre)
Babai dir: Visar Morina (Ger-Den-Fra-Kos-Mac)
Bob And The Trees dir: Diego Ongaro (US)
Box dir: Florin Serban (Fr-Ger-Rom)
Gold Coast dir: Daniel Dencik (Den)
Heil dir: Dietrich Brüggemann (Ger)
Home Care dir: Slavek Horak (Cze-Slo)
The Magic Mountain dir: Anca Damian (Rom-Fr-Pol)
The Red Spider dir: Marcin Koszalka (Pol-Cze-Slo)
The Snake Brothers dir: Jan Prusinovsky (Cze)
Song Of Songs dir: Eva Neymann (Ukr)
The Sound Of Trees dir: Francois Péloquin (Can)
Those Who Fall Have Wings dir: Peter Brunner (Aus)