Locarno president Marco Solari talks Screen through this year's event.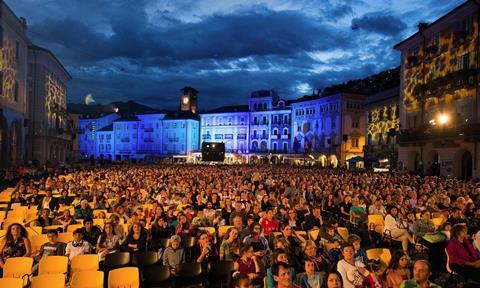 "I will tell you immediately that 70 years is not an arriving point but a starting point," insists Locarno's long-serving president Marco Solari of the festival's platinum year.
While there will be celebrations to mark the 70th anniversary, Locarno Festival (August 2-12) is determined to look to the future — a proactive approach that has seen it rank consistently as one of the world's most exciting festivals in an increasingly packed marketplace.
Indeed, since its launch in 1946, Locarno has been quick to spot new cinematic talents and trends. "All through its long history, Locarno has always been able to recognise before other festivals when cinema is going in another direction," suggests Locarno's artistic director Carlo Chatrian.
The festival supported Italian neo-realism, giving Roberto Rossellini its top prize (now known as the Golden Leopard) for Germany: Year Zero (1948); showed work from the French New Wave; boosted the careers of important US indie directors and mavericks such as Stanley Kubrick, Jim Jarmusch, Spike Lee, Todd Haynes and Kathryn Bigelow; showcased Iranian cinema; and put Filipino auteur Lav Diaz in its Competition.
Fittingly, the festival's gaze remains firmly on the future, as evidenced by a small but significant change to the event's name — it is now Locarno Festival, rather than Locarno Film Festival. Of course, film is still at the heart of the event, with many titles still being projected in 35mm, but the programmers are now looking beyond cinema. As Solari puts it, "the festival is more than a seat and a screen. It is an event."
There is now also an extra emphasis on young people, and the festival has established a youth advisory board, consisting of eight young delegates between the ages of 16 and 25. Locarno is as much for them as for older generations, notes Solari. "They give us input as to how we can surprise people. Festivals tomorrow must be young, surprising, courageous and of enormous interest to a young audience."
Independent spirit
Over the past 70 years, Locarno has had some fiery, opinionated and colourful figures serving as artistic director — Moritz De Hadeln (1972-77), Marco Müller (1992-2000), Irene Bignardi (2000-05) and Chatrian (2013-present) among them.
Solari, who has been president for 17 years, likens the event to a newspaper and these artistic directors to its editors. They are the "face" of the event, and so Solari wants to ensure their autonomy. "You must have a solid financial basis. I always say that, as president of the board, I have three conditions I must fulfil — look for the money, look for the money and look for the money!" Solari jokes. "A fourth is to look for very strong figures [as artistic directors]."
Locarno's emphasis has always been on content. The world's oldest film festival, Venice, founded in 1932, offered glamour but was an invention of Italian dictator Benito Mussolini and the fascist era. Moscow Film Festival, founded a few years later in 1935, was presided over by Joseph Stalin (Sergei Eisenstein was chosen as chairman of the jury and insisted one of the prizes should go to Walt Disney — not a decision that pleased the communist organisers). Cannes was the third major festival, planned for 1939 but scuppered by the war. Next came Locarno.
Right from the outset, Solari insists, the festival has stuck by its own "very Swiss values, values of democracy, republican values". As a point of principle, the festival has always been run along efficient lines and has aspired to the highest artistic standards. "The festival chose from the beginning to be very courageous, very autonomous," Solari says.
It is an "international cultural event" with high artistic standards, not a parochial Swiss get-together. If local films are not of sufficiently high quality, they simply will not be programmed. "We don't protect Swiss films in Locarno," Solari continues. "Do you think we can show a bad Swiss film only because it is labelled Swiss? Not at all. We are dedicated to quality, we don't make compromises on our artistic choice."
The importance of the festival within Swiss culture is highlighted by the fact its most famous screening site, the Piazza Grande where 8,000-plus spectators watch films in the open air, is featured on the country's new 20-franc banknote as a symbol of Swiss creativity. A commemorative festival stamp has also been created. Such things are a huge honour, says Solari, but also a challenge. "Now, we are not allowed to fail."
Memorable moments
While it is Solari's responsibility to continue to secure the finance Locarno needs to maintain its status as one of the world's most respected festivals — something he says keeps him awake at night — he also makes sure not to interfere in programming policy, and has left the limelight to the artistic director, filmmakers and guests who flock to the town.
But he has witnessed many memorable moments. One was the visit of Nobel Prize-winning playwright Dario Fo in 2007. Solari remembers the "maestro" being consumed with nerves before he went on stage to present an award to Spanish actress Carmen Maura, but his anxiety vanished the moment he took the microphone. Fo began his speech in 14th-century Spanish, which no one in the audience understood, but all were enthralled by his personality and charm.
Another highlight was the 2012 visit of US singer, actor and civil-rights activist Harry Belafonte, who made a tub-thumping speech about the responsibility of artists to express themselves honestly, even if the audience does not like the message. Again, the Piazza was spellbound. "This is the fascination of Locarno — dialogue and what I call 'intelligent glamour'," Solari says. "There is no firewall between the artist and the Piazza Grande. This is a very serious and engaged festival."