Buzz titles for 2014 from the rising stars of Mexico's film industry.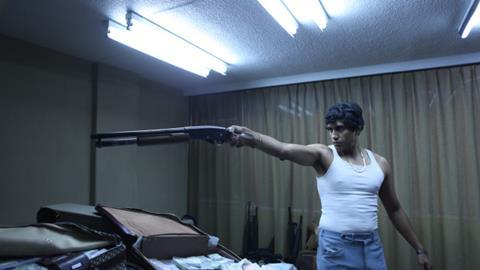 The Beginning Of Time (El Comienzo Del Tiempo)
Dir Bernardo Arellano
Antonio Perez Carbajal and Bertha Olivia Ramirez star in Bernardo Arellano's film as a couple in their 90s who peddle tamales on the street after the government suspends state pensions. The sudden appearance of their estranged son and grandson bodes well. Agrupacion Caramelo Cinematografica, the company Arellano set up with April Shannon and others, produced the story backed by private funds and prize money from Arellano's 2010 San Sebastian Films in Progress winner Between Night And Day. Post-production support comes from Imcine and a work-in-progress grant from the Los Cabos International Film Festival. Arellano's third feature, Franco's Night, was recently presented in the Cartagena film festival's producers market.
Contact April Shannon, Agrupacion Caramelo Cinematografica aprils@agrupacioncaramelo.com
Desierto
Dir Jonas Cuaron
Jonas Cuaron, who co-wrote Gravity with his father Alfonso, has begun shooting his sophomore feature in Baja California. Cuaron Senior produces and Gael Garcia Bernal and Jeffrey Dean Morgan star in the cat-and-mouse tale of an American vigilante on the trail of a migrant worker. Carlos Cuaron, Charles Gillibert and Alex Garcia also produce the Esperanto Kino production in association with CG Cinema, Orange Studio, Canana and Itaca Films. David Linde and Bernal are among the executive producers.
Contact Araceli Velazquez araceli.velazquez@agstudios.com
Gueros
Dir Alonso Ruizpalacios
Ruizpalacios is officially one to watch after his Panorama selection scooped the best first feature award in Berlin, where Mundial handled international sales. Gael Garcia Bernal serves as executive producer and Ramiro Ruiz produced the coming-of-age story set against the 1999 student strikes, as two brothers journey across Mexico City in search of a legendary musician. Sebastian Aguirre, Tenoch Huerta, Leonardo Ortizgris and Ilse Salas star.
Contact Mundial cristina_garza@mundialsales.com
Lonely Stars (Estrellas Solitarias)
Dir Fernando Urdapilleta
One of the new wave of exciting graduates from Mexico's Centro de Capacitacion Cinematografica (CCC), Urdapilleta makes his feature directorial debut with a story about drag queens in Mexico City. Backing comes from the Foprocine (Mexican Fund for Quality Cinema). Urdapilleta aims to have the movie ready this summer and is in talks with distributors. Henner Hoffman and Karla Bukantz produced and the executive producers are Antonio Urdapilleta and Alejandra Garcia. Dana Karvelas and Jorge Arriaga lead the cast.
Contact Centro de Capacitacion Cinematografica divulgacion@elccc.com.mx
Mexico's Most Wanted (El Charro Misterioso)
Dir Jose Manuel Cravioto
LatAm has lined up an autumn release in Mexico for the true story of Alfredo Rios Galeana, the most prolific bank robber in the history of Mexico, who went by the moniker El Charro Misterioso. When he wasn't pulling off more than 80 heists and escaping from prison, Galeana was a masked Mariachi player who sold records to the masses. The story charts Galeana's criminal career and the final showdown with the federal agent who took him in.
Contact Mundial cristina_garza@mundialsales.com
The Obscure Spring (Las Oscuras Primaveras)
Dir Ernesto Contreras
Jose Maria Yazpik, Cecilia Suarez, Irene Azuela and Margarita Sanz star in Contreras' feature about a plumber and a coffee shop worker whose desire for each other reaches a crescendo with the onset of spring. Carlos Contreras wrote the screenplay and Monica Lozano, Luis Albores, Erika Avila, Jose Maria Yazpik, Carlos Meza Yazpik and Eamon O'Farril produced the Tintorera Producciones, Agencia SHA, Alebrije Cine y Video production with support from Fidecine, Eficine and Estudios Churubusco Azteca. No distributor is attached yet.
Contact Ernesto Contreras todaslasrespuestas@gmail.com
Open Cage (Los Bañistas)
Dir Max Zunino
Another story about the ramifications of economic hardship, Zunino's Open Cage explores the growing friendship between a rebellious teenager and her grouchy old neighbour who bond in order to get by. The feature recently received its world premiere in Guadalajara 12 months after it won the work-in-progress awards at Guadalajara Construye and, more recently, a grant from Ventana Sur Primer Corte 2013.
Contact Max Zunino maxzunino@me.com
Paraiso
Dir Mariana Chenillo
Chenillo's follow-up her multiple Ariel Award-winner Nora's Will centres on a happy couple whose marriage is challenged when they relocate to Mexico City and go on diets. Andres Almeida and Daniela Rincon star and Canana's Pablo Cruz produced. Mundial handles international sales and Videocine will release in Mexico on June 29. "Paraiso is a film about change," says Chenillo. "It is about the fear we feel when our life changes, causing things to slip out of our control."
Contact Mundial cristina_garza@mundialsales.com
Viento Aparte
Dir Alejandro Gerber Bicecci
Bicecci's story, which premiered at the Guadalajara film festival in March, took the film-maker on a 1,600-mile journey when it shot in early 2013. Sebastian Cobos and Valentina Buzzurro star in the story of two youngsters who trek to their grandmother's home after their mother suffers a stroke. The film is supported by Foprocine, Imcine, Albricias Produccion and Estudios Churubusco.
Contact Albricias Produccion vaho.albriciasproduccion@gmail.com
The Well (Manto Acuifero)
Dir Michael Rowe
Gael Garcia Bernal produces the new film from Michael Rowe - winner of 2010's Camera d'Or for Leap Year - alongside Julian Levin and Arturo Sampson. Canana will release in autumn. The Well centres on an imaginative eight-year-old girl from a broken home who pines for her father and discovers a secret about him that will change her forever. Zaili Sofia Macias, Tania Arredondo and Arnoldo Picazzo star.
Contact Mundial cristina_garza@mundialsales.com