US television has made positive strides towards on-screen diversity, whereas progress in the film industry remains slow. It is a trend that is reaping rewards.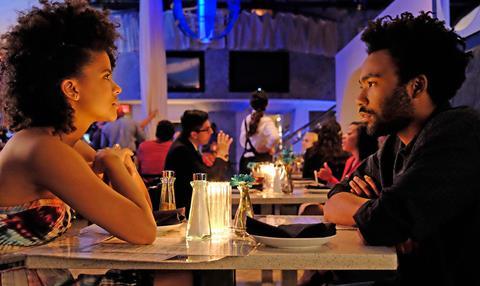 At the recent Primetime Emmy Awards ceremony, host Jimmy Kimmel got some laughs at the film industry's expense. "The Emmys are so diverse this year," said Kimmel, "the Oscars are now telling people we're one of their closest friends."
The joke has some truth behind it. While the US film industry has responded sluggishly to pressure from the #OscarsSoWhite movement and other sources, the US television industry appears to have made real progress towards genuine diversity - and to have found that such diversity can pay off.
Shonda Rhimes, executive producer of How To Get Away With Murder and other hit shows, and Personality of the Year at this month's MIPCOM market, still reigns as the queen of primetime. And series such as culture-clash comedy Black-ish, Asian-American sitcom Fresh Off The Boat, female-driven cable drama UnREAL and Amazon's transgender streaming dramedy Transparent have all found popular as well as critical success.
Making their debuts this autumn are Star, from Empire co-creator Lee Daniels, Ava DuVernay's drama Queen Sugar, buzzy dramedy Atlanta and HBO comedy Insecure, from Issa Rae, creator of online series The Misadventures Of Awkward Black Girl.
HBO president of programming Casey Bloys says ordering Insecure was part of "a conscious effort to broaden our programming. [Rae] is unique and charming and a great storyteller, and it was an audience we were not serving. So it's good for us creatively, and from a business point of view it's always good to put out shows that aren't being done elsewhere."
For all the diversity on screen, however, there is still plenty of progress to be made behind the cameras and in the TV industry's executive offices. A report published last month by the Directors Guild of America (DGA) showed that of 4,000 episodes of 299 scripted TV series made in the US during 2015-16, only 17% were directed by women and only 19% by ethnic minorities. Minority females were behind the camera on a minuscule 3% of the episodes. The figures, said DGA president Paris Barclay, show "there's a long road ahead for true change to be realised".
Diversity initiatives may be one way to start moving along that road. Earlier this year, Ryan Murphy, creator of Glee and American Horror Story, launched Half, a foundation operated by his 20th Century Fox Television-based production company with the goal of hiring women, people of colour and members of the LGBT community to direct 50% of episodes of the company's shows. And late last year, female-focused cable channel Lifetime launched Broad Focus, an initiative advocating for more women in behind-the-camera roles. The initiative has linked up with the American Film Institute to provide jobs for graduates of the institute's conservatory for women.
"One of the big hurdles in Hollywood is a lot of women go through school and shadowing programmes and internships and none of it results in a job," says Danielle Carrig, Lifetime's SVP of communications and public affairs. "We took the leap of faith and we're going to find things for these women within the company."
Ultimately, of course, industry gatekeepers will need to be convinced that diversity can continue to pay its way in the furiously competitive US television industry. And the evolving nature of the industry might, some producers suggest, be the thing that sells that idea. Studio executive-turned-feature producer Stephanie Allain, whose credits include features Hustle & Flow and Dear White People, is executive-producing a series version of Dear White People for Netflix (whose rival Amazon recently ordered a series version of Spike Lee's She's Gotta Have It).
For the new breed of SVoD networks, Allain suggests, "it made sense when they were jumping off to do things that other people weren't doing, because that helps define who you are and draws an audience. And at Netflix, for instance, there are people of colour behind the desk when you go in to pitch. For me, that's a huge thing."
Allain also hopes the global reach of SVoD services will help dispel the conventional wisdom that films and TV shows about African-Americans do not perform outside the US. "We used to worry that our stuff doesn't travel," Allain says, "but when you're on Netflix that's going to bring our faces and our stories into homes everywhere.
"The entire business has been hoodwinked by the 'fact' our stuff doesn't travel. It's not going to be an overnight situation, but because of digital platforms there will be a way to build audiences for our stories all over the world. And once that happens it will be hard for anyone to say people don't want to see us."