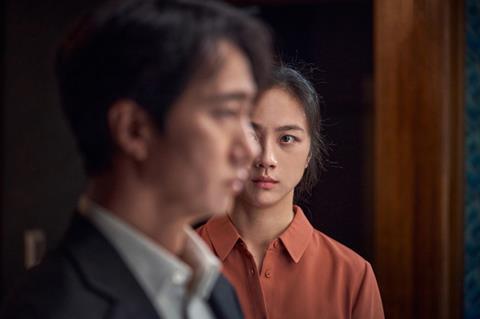 South Korean director Park Chan-wook is switching gears with Decision To Leave, a romance and detective drama that marks his latest feature to premiere in Competition.
"I always wanted to do a different kind of police film," says the director, who won Cannes' grand prix with revenge action thriller Old Boy in 2004, the jury prize with vampire film Thirst in 2009 and was last in Competition with period erotic-thriller The Handmaiden in 2016.
Park says he thinks of all his films as romances, regardless of the genre — "no-one else does [think that], but I do" — so with Decision To Leave he wanted to portray a relationship "in a more full-dress sort of way".
"I wanted to make something classically refined and fairly quiet where, of course, the characters' emotions are swirling internally, but on the outside they are quiet," he adds.
The feature came together while Park was in London working on BBC series The Little Drummer Girl. His longtime collaborator Chung Seo-kyung, who worked with Park on scripts for The Handmaiden and Thirst, came to visit and brainstorm ideas.
The story begins when a man falls from a mountain peak to his death and the detective in charge of investigating, played by Park Hae-il (The Host), comes to meet the dead man's wife, played by Tang Wei (Lust, Caution).
"I brought the idea for a romance film where the male protagonist is a detective - but one that is different from the ones we're used to seeing," says Park. "He's courteous and clean. I thought it should be someone like Park Hae-il."
Having spent time with the actor along with mutual friends director Bong Joon Ho and actor Song Kang-ho, who both worked with him on The Host and Memories Of Murder, the director was familiar with his personality. "We were already as friendly as people who had done one or two films together and I knew what his virtues are. So he was the first I thought of for this role.
"Writer Chung countered that we make the female protagonist Chinese so that we could cast Tang Wei," says the director. "She [plays] a foreigner with a dubious past in China, but Park Hae-il's character wants to look at the facts without prejudice, not believing it's evidence enough that she is a murderer.
"The process of thoroughly investigating a person, getting to know them through one thing after another, is a sort of dating for them," adds Park. "The conversations they have – very dry and with many things hidden – are a sort of process of having closed-door conversations with dual meanings.
"Tang Wei's personality traits that I observed when meeting her were reflected in the rewriting of the script — her honesty, simplicity and grace, and a bit of stubbornness."
On that last point, he explains: "She refused to just memorise her lines phonetically without knowing the meaning, so she studied Korean with two bilingual tutors. She learned so that Korean audiences could not only understand what she was saying without subtitles but also catch the nuances."
Talking points
"The hardest thing about the shoot was her speaking Korean," says the director of the Chinese actress, who has the nickname Tang Tang. "When we were shooting, it would have taken too long until we got all the dialogue [perfect] so if her lips and speaking speed, the length of each syllable, were accurate, I would say, 'Okay,' and we did 99% of it in ADR," adding that they brought in outsiders to see if they could understand all the lines cold. "We recorded and refined. I want to compliment Tang Tang's efforts. She never got tired or complained once."
The film shot from October 19, 2020 to March 12, 2021 "all over the country but mostly in Busan", according to Park, noting much of the film takes place in Busan but that the city also stood in for other regions.
Post-production lasted until the beginning of 2022. "It took a long time because of the [pandemic]," says Park. "Not because there were a lot of infections and setbacks, but because there were so few cinema­goers that we couldn't set a release date.
"Since we didn't know when we would have a release, we had time and — I heard this from a lot of other productions as well — when a person doesn't have a deadline, they end up revising a lot.
"The more you touch it up, the better it gets. That's why I think a flood of films coming out these days will have high-quality post-production. I spent an all-time record amount of time editing and put a lot of effort into the music and everything."
The Korean and Chinese-language film, produced by Moho Film with CJ ENM backing and distributing, is now set for local release in June.
Looking ahead, Park hopes HBO series adaptation The Sympathizer with Robert Downey Jr will be his next production. "I've written four out of seven episodes," he says. "We're auditioning for the other parts now. It's about the clash and balance between eastern and western thinking, and how ideological excess can influence individuals — something Koreans are quite familiar with."