Mirsad Purivatra on the revamped festival format, high-profile guests and budget challenges.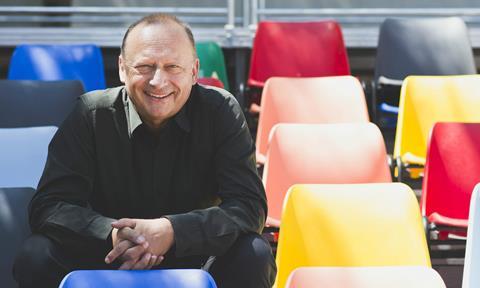 As the 23rd Sarajevo Film Festival (August 11-18) gets underway, Screen sits down with festival director and co-founder Mirsad Purivatra to talk about the event's new format and why the festival remains crucial for the region.
New format
'Synergy' is the buzz word of this year's festival. Sarajevo's team has reduced the length of the festival from nine days to eight, with an emphasis on better integrating the event's major strands: the public-facing screenings, the industry activity of CineLink, and training initiative Talents Sarajevo.
Rather than those three arms operating individually and disparately, Sarajevo is attempting to integrate attendees across the week, creating one event for everybody with plenty of overlap. This year, CineLink will run across the week (August 12-17), meaning that industry delegates will be in town for the majority of the festival.
Purivatra says that the idea first occurred to this team during the debrief after last year's event. "Every year we analyse the previous editions. Our idea was to have the opening night, and then have six working days when almost everyone will be here. We want to give all of our guests the full picture of the regional film industry."
Awards will be given out on the final day of the festival, and those who have participated in CineLink will have a chance to watch some films and explore the sights of Sarajevo.
Films
The structure of this year's programme remains largely the same, including the Competition programme (all films from the wider region, and world or regional premieres), the Documentary Competition (all films from Southeastern Europe and Southern Caucasus), the In Focus programme of films from the region that have had prior festival success, and the Kinoscope programme of international festival hits.
A key introduction this year is the Student Film Competition, which will show fiction, documentary and animated films up to 60 minutes in length that have been produced from the region's film schools, faculties or academies.
Purivatra explains that the motivation behind introducing the strand was to highlight the region's burgeoning talent pool. "I think this region is full of very talented people; it's very important for us to present them to international industry and promote them from an early phase," he comments.
He adds that the national Bosnian industry is going through "a crisis of investment" but shows "great vitality" despite this. The festival is screening 72 Bosnian films including six features in its Bosnian film section, which is organised with the Association of Filmmakers of Bosnia & Herzegovina. "We are proud of the filmmakers and it would be great if politicians could recognise the potential in this new young generation, and to support them – this is our fight, to convince them to invest more money in the film industry," he says.
Investing time and publicity in young talents from the region will reap benefits for the region in the future, he hopes. Purivatra explains that the festival can then take them on a step-by-step journey through their debut features by encouraging them to participate in Talents Sarajevo, CineLink, and potentially one day Sarajevo's film programme.
This joined-up thinking has come to bear fruit in recent years. At this year's festival, Georgian-born filmmaker Rezo Gigineishvili is presenting his film Hostages in Sarajevo's competition (following its premiere at this year's Berlinale) – the project previously attended Sarajevo's CineLink Co-Production Market in 2015 and returned to the festival in 2016 to feature in the CineLink Work in Progress section.
Sarajevo's programme is once again jam-packed with high-profile international titles and potential regional gems. Among the world premieres this year is the intriguing prospect of Turkish filmmaker Semih Kaplanoglu's Grain. The film, a post-apocalyptic tale shot on 35mm and in black-and-white, is the director's first since he won the Berlin Golden Bear in 2010 for Honey. It's a big get for the festival, and Purivatra reveals that the team identified the project early as one they'd like to secure. "We showed our interest to the director early on. We were in direct contact with The Match Factory [which is handling sales] and we really appreciate them choosing Sarajevo for the world premiere." Grain premieres as this year's Competition opening film on August 12, and plays again on August 16.
The festival will once again host a series of hit international titles from other festivals, including David Lowery's A Ghost Story (Sundance), Andrey Zvyagintsev's Loveless (Cannes), Michael Haneke's Happy End (Cannes), Alice Lowe's Prevenge (Venice), and this year's Cannes Palme d'Or winner, Ruben Ostlund's The Square.
Guests
Robert De Niro's appearance at last year's festival may have seemed like a tough act to follow, but step forward three-time Oscar-winning filmmaker Oliver Stone, who will attend this year's event to receive an honorary Heart of Sarajevo Award for his contribution to cinema. The festival will screen his latest work, The Putin Interviews, in which he sat down with the Russian premier for a face-to-face – and Stone is likely to be an outspoken and engaging guest when he delivers a masterclass following a screening of Snowden on Tuesday August 15. Purivatra describes him as "one of the most provocative, sometimes subversive, personalities in film". The festival will also screen two of his other films: Platoon and Natural Born Killers.
Also receiving an honorary Heart of Sarajevo Award this year will be UK actor John Cleese, most noted for being part of the comedy troupe Monty Python and for his role in sitcom Fawlty Towers. Purivatra is thrilled to be hosting the comedian: "John Cleese was one of the icons we grew up with, he changed so many things in film and TV comedy. We wanted him to come to Sarajevo and speak about his whole career." Cleese will accept the award on August 15 after an open-air screening of his film A Fish Called Wanda.
Finally, Sarajevo will also celebrate the work of US-born British documentary filmmaker Joshua Oppenheimer, who is highly regarded for his hard-hitting, Oscar-nominated documentaries The Act Of Killing and The Look Of Silence, both of which explored the 1960s Indonesian genocide.
Those films will screen and Oppenheimer will speak as part of the festival's Dealing With The Past project, which will explore the way in which filmmakers can address challenging historical topics through their works, and bring those stories to wider audiences.
Funding challenges
Purivatra says that the festival's budget of roughly $1.5m (€1.25m) is a "stable" amount but restricts how much his team can expand the festival. He reveals that in the last three years, the state's contribution has decreased and now only counts for 20% of the overall pot, with the rest coming from ticket sales, European funding initiatives and, crucially, sponsorship contracts.
Upping sponsorship contributions is an increasingly vital part of running a film festival, and Purivatra adds that Sarajevo's key partners such as Raiffeisen Bank, Coca-Cola and Telemach have increased their support recently, which has helped keep the festival financially viable.
Despite financial challenges, Purivatra remains upbeat about the festival's future: "We'd like to keep our position as the leading international festival with focus on our region; it isn't easy and that's why we need to be more innovative every year." One of these innovations is upping the festival's presence across Bosnia in the form of Operation Kino, which sees films from Sarajevo's programme presented in 44 towns and villages across the country. "Film literacy is one of our key missions; we want to encourage people to watch films in cinemas," he adds.