Screen's Stars of Tomorrow 2015 have had a stellar year, featuring in major Hollywood productions, working with arthouse legends and making their feature debuts behind the camera.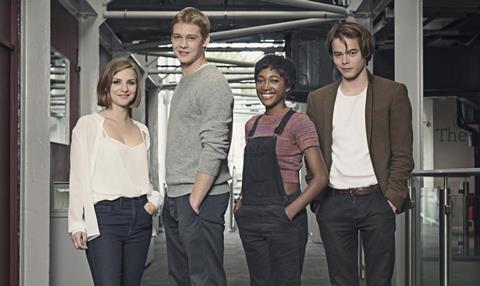 The Actors
Adedayo wowed audiences — and critics — in the FGM drama Cuttin' It, which played at London's Royal Court Theatre.
Alwyn stars in Ang Lee's Billy Lynn's Long Halftime Walk, which screens at New York Film Festival.
Bamber features in Tom Ford's Nocturnal Animals, which screened at Venice and Toronto. She has just filmed a lead in Extracurricular Activities, a US indie feature about a model student who becomes a hitman for hire for his classmates.
Barden plays the lead in Ellen, a 'Coming Up' film for Channel 4, and in Sweet Maddie Stone for this year's Star of Tomorrow director Brady Hood. She also has a role in Sean Foley's Mindhorn, written by Julian Barratt and Simon Farnaby. Having signed with ICM in Los Angeles, Barden has spent several months in the US and is attached to projects there.
Galitzine starred in the Irish feature Handsome Devils, which played in Toronto. He also started shooting a lead role in the film The Changeover in New Zealand with Timothy Spall, Melanie Lynskey and Lucy Lawless. The Changeover is a supernatural thriller based on the novel by Margaret Mahy, and directed by Stuart McKenzie and Miranda Harcourt.
Hardy has appeared in X-Men: Apocalypse and has just completed Granite Mountain in Mexico with Josh Brolin and Miles Teller. Prior to that, he filmed the role of Polidori in Haifaa al-Mansour's A Storm In The Stars opposite Elle Fanning, Douglas Booth, Bel Powley and Maisie Williams.
Heaton's film As You Are won the US Dramatic prize at this year's Sundance. He followed this up with a breakthrough role in the cult Netflix show Stranger Things and will shoot a lead role in JA Bayona's new film Marrowbone.
After a long search, Howle was tapped to play the lead opposite Saoirse Ronan in Number 9's adaptation of Ian McEwan's On Chesil Beach for director Dominic Cooke.
Ikhile starred in Torn at London's Royal Court Theatre, and shot two features: Daphne, produced by The Bureau, and Sand Castle alongside Henry Cavill.
Keoghan is currently filming the young lead role in Yorgos Lanthimos's new film The Killing Of A Sacred Deer, opposite Colin Farrell. It is inspired by a Euripides tragedy, and centres on a teenager (Keoghan) and a charismatic surgeon (Farrell), who seeks to integrate the boy into his broken family. Keoghan also shot a role in Dunkirk for Christopher Nolan, and the young lead in Konstantin Bojanov's Light Thereafter (formerly I Want To Be Like You).
With Departure winning him plaudits on its festival run, Lawther has gone on to shoot the films Freak Show for Trudie Styler and Film4's Old Boys for director Toby MacDonald. He also appears in the new series of Black Mirror for Netflix.
Marsay was seen on TV in both Love, Nina and Game Of Thrones, and has filmed the lead in a Black Mirror two-hander with Kelly Macdonald for Netflix. She will shoot the romantic comedy Fish Without Bicycles opposite Lucy Punch and David Tennant later in the year for director Daisy Aitkens.
Scott has shot the Power Rangers reboot, playing the Pink Ranger. It will open in the US next March with a supporting cast that includes Bryan Cranston and Elizabeth Banks.
Vernel played Bala-Tik in Star Wars: The Force Awakens, and has been working on Christopher Nolan's Dunkirk. He also wrapped the second series of BBC's The Missing.
The Producers, Writers & Directors
Farhana Bhula, Producer
Bhula's short Truck, which she produced last year, premieres at the UK's Aesthetica Short Film Festival in York before moving on to other autumn festivals; it is also being developed into a feature film. She is also working with director Mary Nighy on the adaptation of Kate Hamer's bestselling novel The Girl In The Red Coat.
Andy Brunskill, Producer
Brunskill's Gully went through the Sundance labs, while Jet Trash was picked up for sales by Cinestaan and world premiered at Edinburgh International Film Festival. A pilot has been commissioned by the BFI for the short Phone Book.
Charlie Covell, Writer
E4 has greenlit writer/actor Covell's own show, The End Of The Fucking World, which is scheduled to shoot next year, and she is writing all eight episodes. Previously Covell co-wrote an episode of the second series of Channel 4's Humans with Iain Weatherby and an episode of Tom Basden's Foreign Bodies. As an actor, she was a series regular in the ITV show Marcella.
Marnie Dickens, Writer
Dickens' original TV series Thirteen ran on BBC Three and was a critical hit for the channel. She is now developing a sci-fi TV series for eOne, Origin and Sky, working on the film Forty Elephants with Mainstreet, Exclusive and the BBC, writing a film for Big Talk and the BFI and writing a film for The Ink Factory.
Daniel Emmerson, Producer
Emmerson continued to work as associate producer on Assassin's Creed, which is scheduled for release in December. As well as further projects at DMC Film, he is also in post on short film Robot & Scarecrow (directed by Kibwe Tavares) and is producing Calm With Horses (directed by Nick Rowland) and The Kitchen (also directed by Tavares). Emmerson attended Sundance's producer summit with The Kitchen, which was selected for the screenwriter and director labs.
Aleem Khan, Writer-Director
Khan is in the advanced stages of development on his debut feature, After Love. The Bureau production company is set to produce, with Creative England supporting this stage of development. Khan has also been selected to participate on the mentoring scheme Guiding Lights.
Emily Morgan, Producer
Morgan is in production on Rungano Nyoni's debut feature I Am Not A Witch, which shoots in Zambia in October and is supported by the BFI, Film4, Ffilm Cymru Wales and CNC Cinema du Monde. With two projects in the development stage of iFeatures, Morgan is also continuing to work on a slate of features with Soda Pictures.
Oscar Sharp, Writer-Director
Sharp is attached to direct the film adaptation of Ben Mezrich's in-the-works novel Woolly: The True Story Of The De-Extinction Of One Of History's Most Iconic Creatures. Wyck Godfrey and Marty Bowen are producing the film for 20th Century Fox. The story follows a geneticist and his team of young Harvard scientists who set out to bring the woolly mammoth back from extinction. He also directed the short film Sunspring, which was written by a computer that had been programmed with sci-fi scripts, and stars Thomas Middleditch.
Jorn Threlfall, Writer-Director
After winning 12 international awards with his short film Over, Threlfall is close to finishing his first feature script. Entitled Portal, it is a tender teenage love story that plays against a surreal and horrific emotional landscape. Threlfall has been living in the US state of New Mexico for a year, high up in the desert mountains, while he completes the script.
Joy Wilkinson, Writer
Writer Wilkinson has been signed by CAA and is working on a number of film and TV projects in the UK and US. Her comedy, Blow Up Dolls, about a woman who retools herself as a cyborg to cope with life as a single mother, has been selected for iFeatures' 2016 development slate.