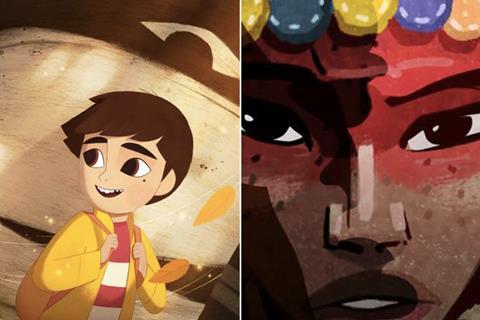 Screen is on the ground at the 46th Annecy International Animation Festival this week, where work-in-progress titles are presented as part of both the main festival, and separately in the Mifa market.
Here are three films from each side to look out for in the coming months:
Festival
The Most Precious of Cargoes (Fr-Bel) dir. Michel Hazanavicius
Having won five Oscars for 2011's The Artist, and most recently opened Cannes with zombie comedy Final Cut, French stalwart Hazanavicius is making his animation feature debut with this adaptation of a 2019 book of the same name by French writer Jean-Claude Grumberg. The story centres on a poor lumberjack and his wife living in the Polish woods. The wife bemoans her childlessness; then one day a mysterious package is thrown from a passing cargo train. Studiocanal is handling world sales rights on the film, which is produced by French companies Ex Nihilo, Les Compagnons du Cinema and Prima Linea Productions, plus the Dardenne brothers' Les Films du Fleuve.
My Father's Dragon (Ire-Fr) dir. Nora Twomey
The latest title from Irish animation experts Cartoon Saloon is among the most-anticipated at Annecy, with a sold-out showing on Wednesday morning. After the Saloon's previous title Wolfwalkers (on which Twomey was producer) went with Apple, My Father's Dragon will be released by Netflix at an unconfirmed date, with reports that it is slated for this year. US firm Mockingbird Pictures and the UK's Parallel Films are also producing. It is adapted from Ruth Stiles Gannett's children's book, with a screenplay by Inside Out and Captain Marvel writer Meg LeFauve. The story follows a boy searching for a captive dragon on the aptly-named Wild Island. Stranger Things' Gaten Matarazzo leads the voice cast, alongside Judy Greer, Leighton Meester, Jacob Tremblay, Adam Brody, Rita Moreno, Alan Cumming and Ian McShane.
The Inventor (Ire-US) dir. Jim Capobianco, Pierre-Luc Granjon
Puppetry gets a rare outing as an animated form via this story of Leonardo da Vinci. The curious inventor leaves Italy to join the French court, where he is joined by princess Marguerite in his quest for the meaning of everything. US animator Capobianco previously made 2009 short Leonardo on the same figure, and has credits on Coco, Inside Out, Ratatouille and Wall-E. Here he teams with co-director Granjon, a native of Annecy's Haute-Savoie region who was animation director on Annecy 2018 title The Tower. The Inventor is in production, with a voice cast including Stephen Fry as da Vinci, Daisy Ridley as Marguerite, and roles for Marion Cotillard and Matt Berry.
Mifa
Tribe (Zim-S Afr-Ire) graphic designer Mogau Kekana
Showing as an 'Animation of the world' title at Mifa, Tribe is one of an increasing number of African-focused animated titles on the scene (Jose Miguel Ribeiro's Nayola, about the Angolan civil war, was a WiP last year and is in Competition this time). Only women can do magic in the world of Tribe, where a powerless mother escapes with her daughter to find refuge from power-hungry leaders desperate to exploit her child's unique abilities. The 3D computer animation is written by Zimbabwean writer Tendayi Nyeke and produced by her company Triggerfish Animation, which has credits including 2013 Toronto title Khumba.
The Legend Of Magnus The Good (Den-Nor-Neth) dir. Frank Mosvold
Immature Viking prince Magnus, escapes his evil macho uncle by traveling through time from year 1030 to present-day Norway; where he meets three drag queens who teach him what real courage is. This 3D computer-animated family title represents a step-up in scale for Norwegian filmmaker Mosvold, whose previous title Ella Bella Bingo was distributed by Vision Films in the US and Spirit Entertainment in UK-Ireland. Acclaimed US graphic designer Carter Goodrich is onboard the project; his impressive CV includes Ratatouille, Minions, Despicable Me and Hotel Transylvania.
The Fire Keeper (Fr) dir. Jeanne Irzenski
Mixing 2D and 3D computer animation, The Fire Keeper will be a debut directorial feature for French animator Irzenski, who has worked on international hits including I Lost My Body and My Sunny Maad. The new project follows a young dreamer growing up in the shadow of his strict, traditional father. When the boy's elder brother returns to their village to set up a mine, he must choose his path. The story is based on a 1985 novel by Algerian-born French writer Pierre Rabhi, who died aged 93 in December last year.