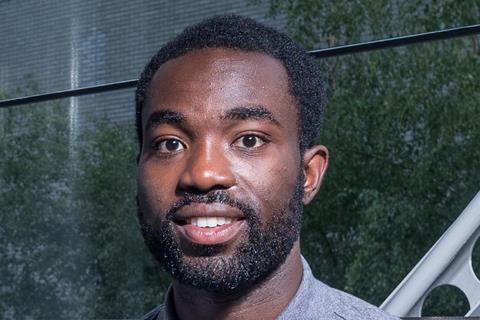 Life was nearly very different for the first black actor to play Hamlet on stage with the Royal Shakespeare Company in Stratford. Paapa Essiedu had been planning to become a doctor and study medicine at University College London when he had a last-minute change of heart.
Click here for the complete list of 2017 Screen Stars of Tomorrow.
"I had done a couple of plays at school and they were just little comedy bits," he explains. "But I remember the feeling of being in front of 200 people and doing a line that's funny and getting a laugh. I remembered the way that gets underneath your skin and the way that gets into your blood. And when that gets inside you, it's intoxicating."
Essiedu spent the summer at the National Youth Theatre before he decided to attend drama school. Emboldened by his naivety, Essiedu applied and won a place at London's Guildhall School of Music & Drama.
After graduation he focused on the theatre, culminating in his triumphant Hamlet in 2016, and is now turning his attention to the screen. Essiedu has wrapped a role in the BBC period drama The Miniaturist, based on the bestselling 2014 novel by Jessie Burton of the same name, and completed a TV film of A Midsummer Night's Dream in which he played Demetrius.
Essiedu is now preparing to film Kiri, a drama written by Jack Thorne for Channel 4 and also starring Sarah Lancashire, in which he will play the father of a young missing girl who suffers a trial by media. He is also set to star in Press, a six-part series for the BBC written by hot TV writer Mike Bartlett, as a journalist who compromises his ideals to take a job on a tabloid.
"I'm interested in parts that mirror the challenges of living in the world we are today," Essiedu says. "I want to do anything that provokes discussion, that challenges."
Contact: Lara Beach, Curtis Brown